15 DIY Wren Bird House Plans You Can Build Today (With Pictures)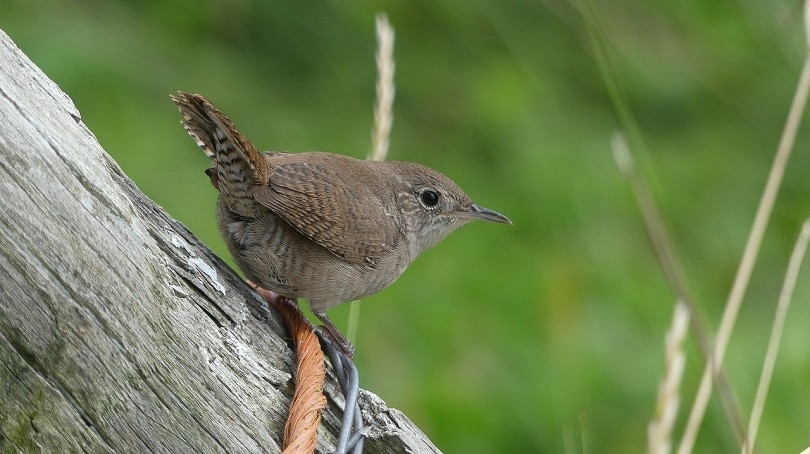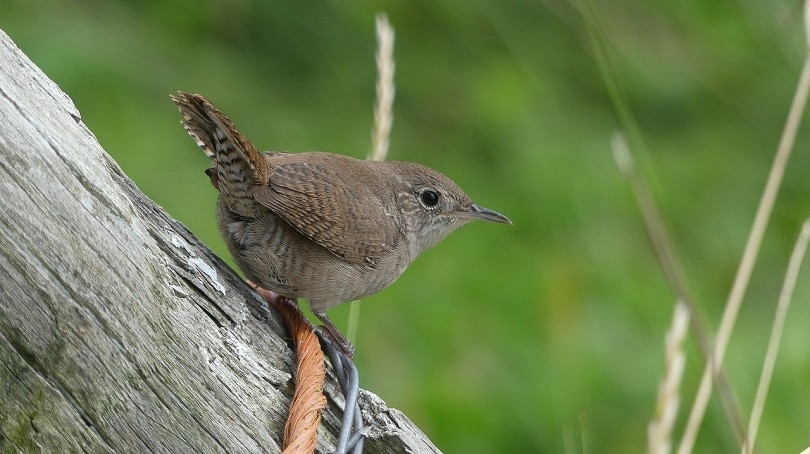 A bird house project is a fun and easy way to get into woodworking at any age. It's also a great way to encourage song birds, like wrens, to populate your backyard.
A wren bird house only needs a certain dimension entrance hole, a door to clean out an old nest, a roof to discourage snow buildup, and a small draining area. Other than these factors, your bird house for wrens can take on any shape, size or color, so long as the nest and bird can fit inside.
Now that you've decided you're learning how to building a wren bird house, let us help you figure out which one you want to build. We've searched around for the traditional, more challenging, and upcycled versions of wren bird houses you can get started on today.
All of these bird house plans explain what materials and tools you will need before you start.

The 15 DIY Wren Bird House Plans
1.

Sloped Roof Next Box
Next up is a bird house in a box form. You only need one board to build it! It calls for "pivot nails" to be installed on one side in order to allow it to swing open for cleaning. A few interesting videos accompany this plan that are worth checking out, including footage of a bird inside a house.
---
2.

Lincoln Log Style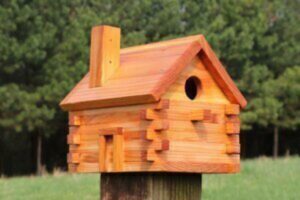 This is a very cool (and free) log home plan for a wren bird house. This could be perfect to go next to a cabin or your own log home. Any bird would love to cozy up in this bird house. The plan comes complete with pictures and a video tutorial.
---
3.

Clay Pot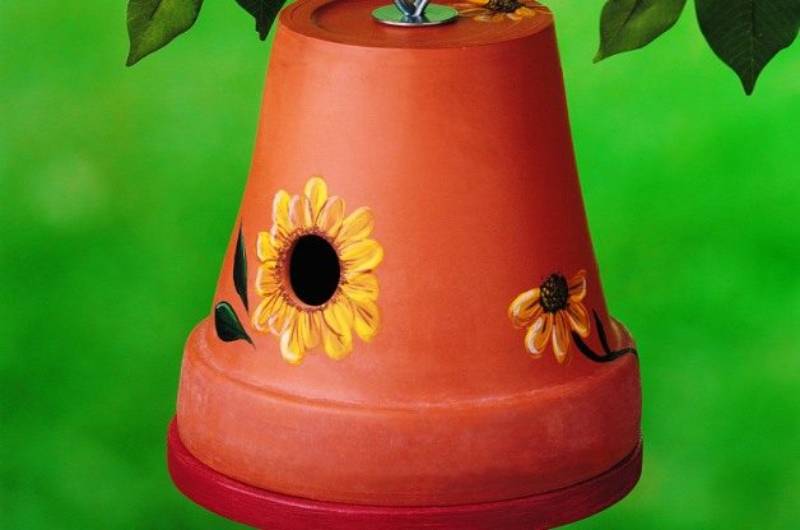 Not a fan of woodworking? That's okay, you can still create your own bird house out of other materials, like this tiny clay pot. It will go perfectly next to your own potted flowers. You will need a piece of plywood in addition to the clay pot, and some paint if you want to paint it.
---
4.

Gazebo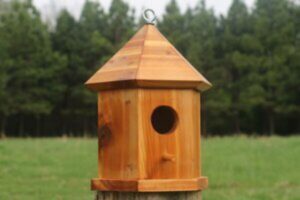 For someone looking for a more challenging woodworking project, here's another unique shape made into a bird house. This one has an octagon base with eight sides and a cone-shaped roof, giving it a gazebo-look. Measuring all the parts and making perfect cuts will be a feat for someone with more advanced saw skills.
---
5.

License Plate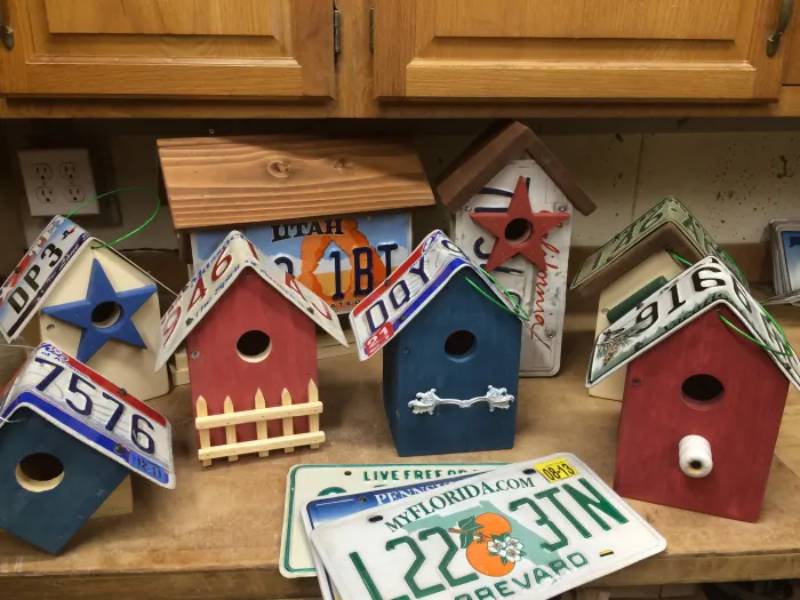 Here's the first of several bird houses made with recycled materials. Give your bird house some hometown flair with an old license plate. There are many variations of this license plate design around the internet. This one in particular adds some wood cut outs around the entrance hole and under the license plate roof, making it stand out from the rest.
---
6.

Coffee Can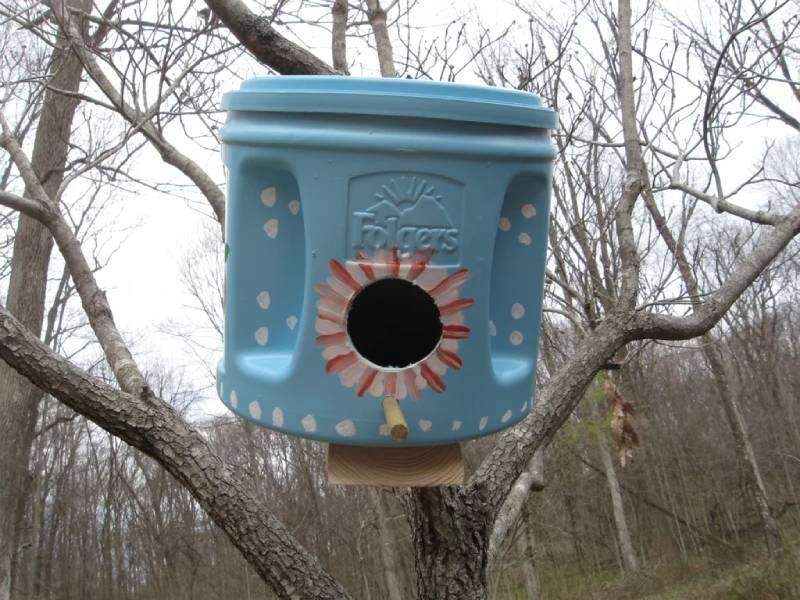 If you just can't find another use for your leftover coffee cans, try fashioning it into a wren bird house! Fix a board on to the bottom to give it some weight, cut out a small hole for the birds and another for draining, hang it up and that's it.
---
7.

Triangle Shape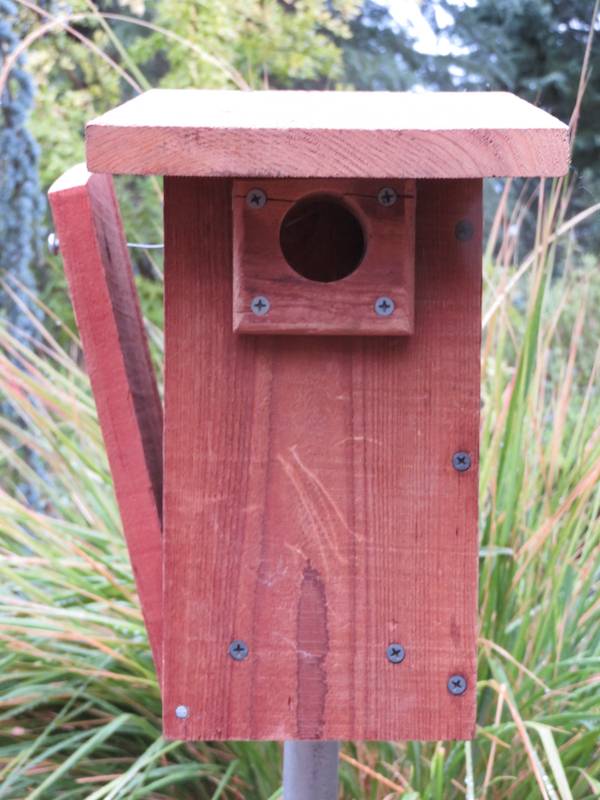 A unique take on the mounted box-shape bird house, this triangle one is great for birds wanting to nest in or next to a tree. You could mount it on a pole or fence as well. An added hinge on the top plank makes cleaning out the nest a cinch.
---
8.

Octagon Shape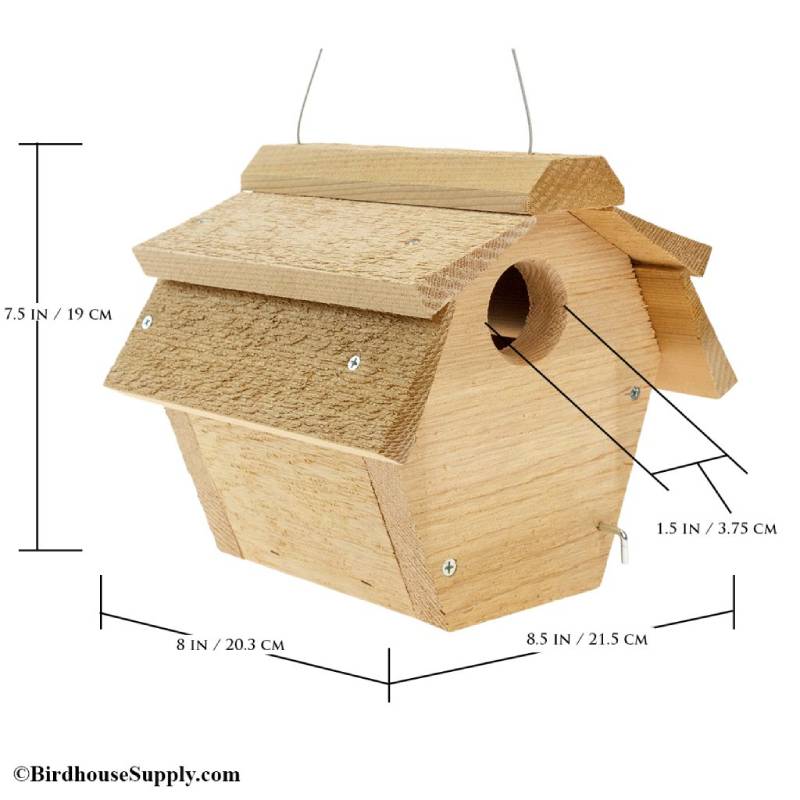 Consider building this exquisite house for your local wrens. The roof is complex but pleasant on the eyes. This is another bird house that will allow you to flex your saw prowess with it's complicated cuts.
---
9.

Tall House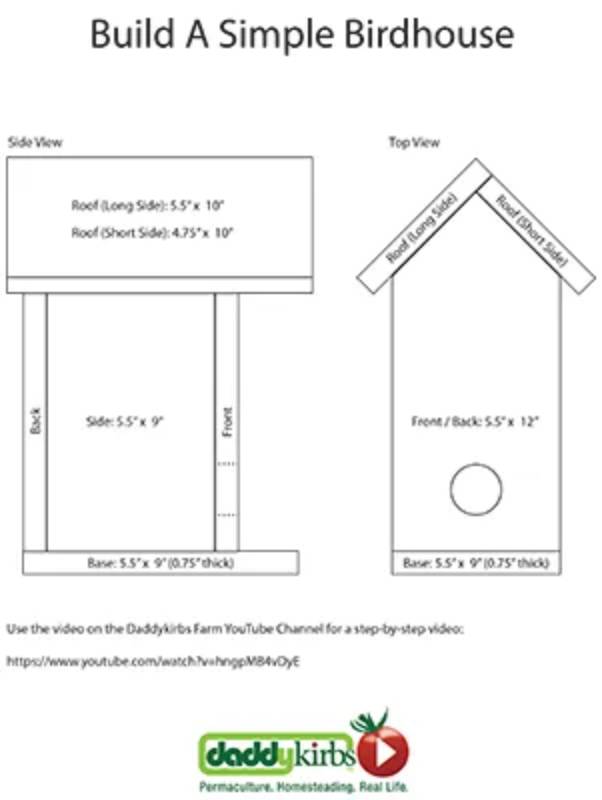 This bird house was inspired by a man trying to use up his scrap pieces from building a fence. He was able to design a bird house that was taller in order to use up more of his leftovers. A free PDF and video are provided to help you along step-by-step.
---
10.

PVC Pipe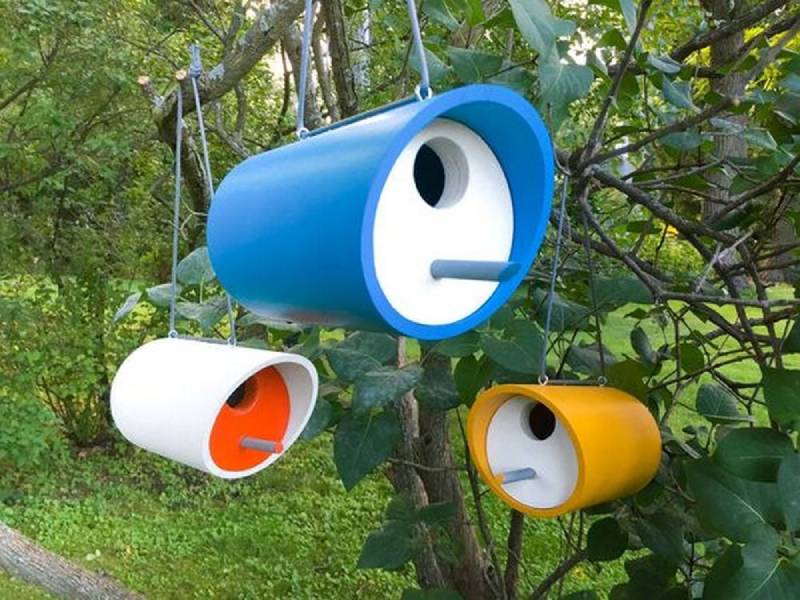 Are you wanting a more modern look to your yard? Take a gander at this PVC-made bird house. No wood planks required here, just a PVC pipe and some wood rounds to fit inside. This could be a great way to use up leftover PVC pipe from a DIY plumbing project.
---
11.

Fence Post Wren Birdhouse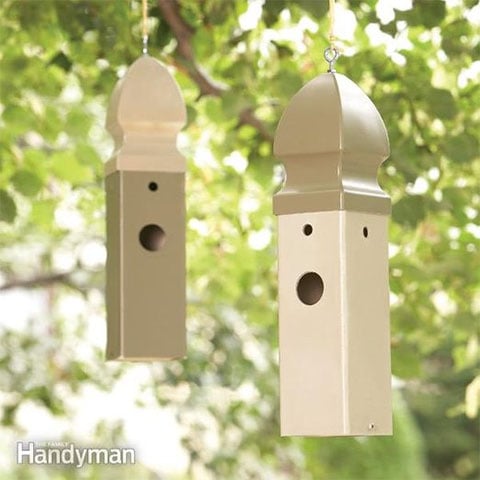 FamilyHandyman shared with us a birdhouse design that was not only sturdy but also durable. They used posts made of plastic, which is unusual, given most birdhouses are normally made of natural materials such as lumber.
What makes the Plastic Fence Post Birdhouse perfect wren accommodation is that it's been designed to hang from a tree. This facilitates good ventilation and gives the occupants a clear line of sight. It would be impossible for a predator to sneak up on them without being seen.
---
12.

DIY Side Mounted Wren Birdhouse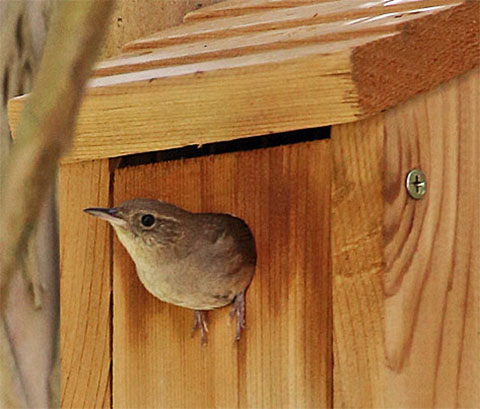 We love the Side Mounted Wren Birdhouse design because it caters to a broad range of different bird species, not just wrens. You'll be glad to learn that this variant comes with a built-in ventilation gap to keep the air fresh and pollutants out.
Depending on your preference, you can mount it on a tree, fence, or wall. Just don't forget to use corrosion-resistant screws in construction, or you'll have to deal with rust once it's exposed to different weather elements.
---
13.

One-Board DIY Wren Birdhouse
Coopfeathers love coming up with plans that anyone can be a part of. They don't discriminate based on skill level, because they believe inexperienced DIYers should be given an opportunity to hone their skills. The One-Board DIY Wren Birdhouse is one such example.
The build is conventionally shaped, with designs that appeal to any wren roaming around in the vicinity. Besides the usual construction materials, you only need a single pine board to bring this construct to life.
---
14.

DIY Wooden Wren Nest Box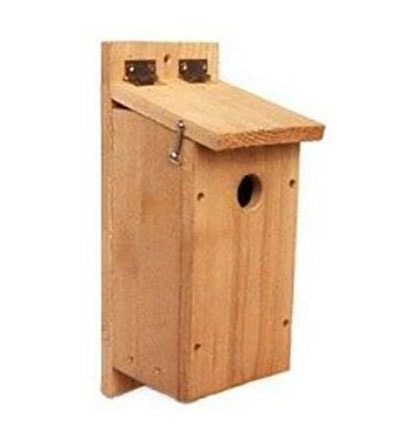 To make your work a tad bit easier, we'd advise you to use pine, red cedar, or any other softwood, while working on the wooden wren nest box. Hardwood can also get the job done, but its low workability is a challenge.
The roof must be hinged using corrosion-resistant screws, to facilitate monitoring and cleaning. You'll have to install this classic wooden nest box next to a tree that can provide sufficient shelter and cover, to protect the birds against excessive heat and predatory attacks.
---
15.

Diamond-Shaped Wren Birdhouse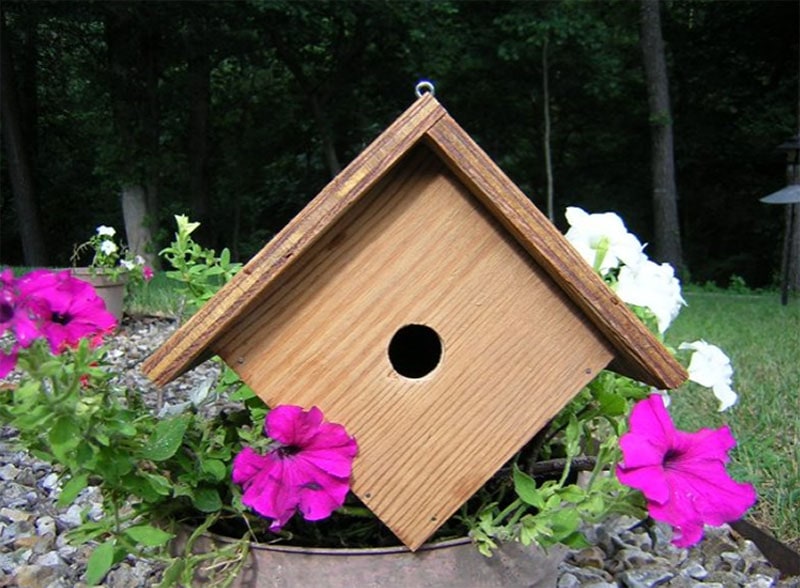 This Diamond-Shaped birdhouse is one of the simplest DIY birdhouse designs for beginners. The instructions are very easy to understand, and the tools used don't require any level of expertise to handle.
The primary construction material is lumber, so you have a variety of options to choose from if your goal is to construct something that complements your backyard aesthetic.
Try to avoid building the house using wood that's less resistant to warping—either go for cypress or white pine. And please remember to paint the exterior surfaces to protect them against harsh weather elements. Leave sections of the entrance unpainted to ensure the birds don't slip when they land.

Wren Bird House Specifications
Wrens like to nest in small spaces, so they are bound to love your space you've created for them. Do the following things to help encourage a welcoming spot for your neighborhood wrens to nest.
Paint the outside only
If you plan to paint your bird house, do not go through the trouble of painting the inside. The birds don't care how it looks, plus, the paint could leech toxicity into the eggs and render them unable to take in oxygen to grow like they should.
Measurements
A hole that is 1¼ inch in diameter or larger will possibly allow unwanted sparrows into your bird house. Keep the hole diameter at 1⅛ inch for house wrens, winter wrens and Bewick's wrens.
The floor of the bird house needs to be about 4 square inches.
You will want to drill the hole at least 3 inches, but no more than 6 inches above the floor of the bird house.
Perch-free
A perch is not necessary for a wren bird house. They will be able to go in and out freely without one. The reason you do not want a perch is to hinder other birds, like starlings, ability to peek their heads in and steal the wren eggs. Disregard any perch in a bird house design if you are building or creating one for wrens.
Discourage rotting
The bird house you build will need to have some sort of small hole in the bottom to aid in draining excess water out of the house, should it encounter a heavy snow or rainfall. Also, choose a material that discourages rotting. If you are using wood, stick with redwood or cedar. Other non-porous materials might be good too like PVC, plastic, or metal.
Hanging or mounted?
You can decide whether you want your bird house hanging or mounted. It doesn't concern wrens either way; they can get in and out easily in a mounted or hanging bird house. You will want to make sure the bird house is clear from any path of predators that will want the wren eggs.
No high-traffic areas
One thing that will likely deter wrens from nesting in your bird house is if you put it in a spot where lots of people or pets are passing by. Stick the house in the corner of your yard to prevent the wrens from being scared away.

Conclusion
Once you learn how to build a wren birdhouse and hang it up, you will be proud to see it every day and await the next wren family to start inside of it. You will want to clean out the bird house every year or twice a year. Tap the outside to scare away anyone residing inside, shine a flashlight inside to make sure there are no eggs, then proceed to take the nest out to make room for the next one.
---
Featured Image Credit: ronin2435, Pixabay