5 Best Gas Pole Saws of 2023 – Reviews & Buyer's Guide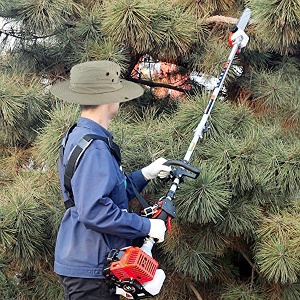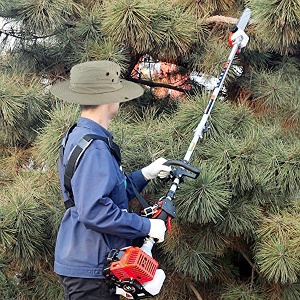 There are two ways to cut the tall branches on the trees around your home. You can climb up a ladder and risk life and limb attempting to cut the branches with a chainsaw, or you can get a gas-powered pole saw and cut it with both of your feet safely planted on the ground. We're going to assume you want to survive your yardwork with no major injuries, so let's discuss some pole saws.
After getting tired of our weak electric pole saw bogging down on every branch more than four inches in diameter, we decided it was time to get something more powerful; a gas pole saw. Of course, we couldn't settle for any pole saw, we needed the best. So, we tested as many as we could find to see which one that is!
To help you save the time and money it takes to test all of these machines, we've compiled our findings into the following five reviews of the most popular and best gas pole saws on the market.
---
A Quick Comparison of Our Favorites in 2023
Rating
Image
Product
Details

Best Overall

Poulan Pro 28cc 2-Cycle Gas Pole Saw

Starts easy with SureFire fuel delivery
Spring-assisted starter
Lightweight (14 lbs.)
CHECK PRICE

Maxtra 2-Cycle Gas Pole Saw

Extends from 8-11 feet'
Cuts 8″ branches with ease
Can convert to other tools
CHECK PRICE

Best Value

TrimmerPlus 8-Inch Gas Polesaw

Great value
11′ foot reach
2-year warranty
CHECK PRICE

Husqvarna 525PT5S Gas-Powered Pole Saw

Extends to 13′
12″ bar can cut the largest branches
Lightweight and easy to operate
CHECK PRICE

BLUE MAX Gas Pole Saw

32.6cc motor offers decent power
CHECK PRICE
The 5 Best Gas Pole Saws
1.

Poulan Pro 28cc 2-Cycle Gas Pole Saw – Best Overall
Poulan Pro is known for making quality chainsaws, so it shouldn't come as much surprise that their Poulan Pro PR28PS pole saw is our pick as the best gas pole saw. It manages to solve one of the biggest issues with gas tools; difficult starting. Since it's equipped with a SureFire fuel delivery system, starting is dead-simple. Just prime, choke, pull, and it starts right up. It's even got a spring-assisted starter so you don't have to yank on the string like you're trying to pull Excalibur from its stone.
Compared to some of the other pole saws we tested, the PR28PS is pretty light, weighing in at just 14 pounds. After hours of trimming, this saw is much less punishing than some of the heavier units. With an 8-inch bar and a 12-foot reach, it's suitable for most non-professional settings. However, it's going to take a bit longer to get the job done because the smaller 28cc motor that helps this machine stay light doesn't have overwhelming power. We also noticed that the saw starts to sputter if held at the wrong angle. This wasn't a constant issue, more like an occasional annoyance. Still, this saw offers a lot of usability for a reasonable price.
Pros
Starts easy with SureFire fuel delivery
Spring-assisted starter
Reasonably priced
Lightweight (14 lbs.)
Cons
Expensive
28cc motor isn't the most powerful
Touchy carburetor
---
2.

Maxtra 2-Cycle Gas Pole Saw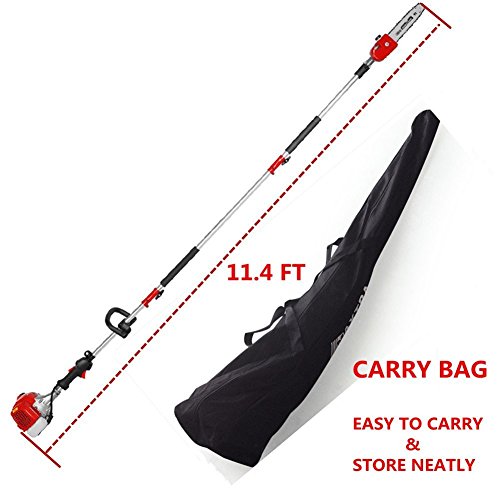 With a telescoping pole that extends from eight to 11 feet in length, the MAXTRA 2-Cycle Gas Pole Saw lets you cut branches that are as high as 14-15 feet off the ground. It's got a 10-inch bar that gives you plenty of reach to cut off limbs that are less than 10 inches in diameter.
A powerful 42.7 cc motor makes sure the chain never gets bogged down. This is the largest motor we've seen on a pole saw, and it provides plenty of power for cutting through the most stubborn branches. But that large motor also weighs more, so you can expect this pole saw to wear your arms out since it's pretty heavy compared to the others we tested. The weight is what keeps it out of the top spot.
Power tools are always a pretty hefty investment, but this one includes a one-year warranty. And if you want to expand this tool's usefulness, it can convert into many other MAXTRA lawn tools with optional attachments that you can purchase separately.
Pros
Extends from 8-11 feet'
Can convert to other tools with optional attachments
Powerful 42.7cc motor cuts 8″ branches with ease
1-year warranty
Cons
Expensive
Heavy
Attachments not included with this model
---
3.

TrimmerPlus 8-Inch Gas Polesaw – Best Value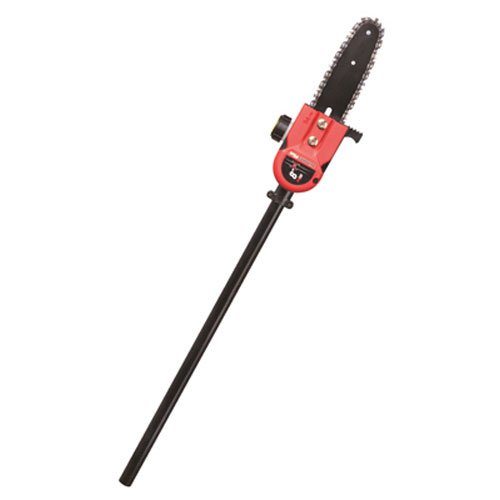 The Trimmer Plus PS720 might not have the "Cadillac quality" of the two previous saws, but we're talking about the top-of-the-line choices in pole saws. Unless your gas saw explodes and showers your yard, trees, and children with flaming gasoline, it's still probably better than an electric model.
Many motorized bases now accept multiple attachments. If you've got a powerhead, pole saw, or even a compatible string trimmer, then you can save yourself a ton of money by just purchasing this the PS720. It's got the pole, bar, and chain; you just need a motor to run it.
This pole saw includes an extension that allows it to reach 11 feet so you can get the highest branches with ease. It's built very well and will hold up to many cuts, as shown by the impressive two-year warranty that's twice the length of the warranty protecting most other pole saws. Between the extra protection of the longer warranty and the cost savings of purchasing just the extension, we think the TrimmerPlus 8-Inch Pole Saw is the best gas pole saw for the money.
Pros
Great value
11′ foot reach
2-year warranty
Cons
Needs adjustment out of the box
Not a trimmer
---
4.

Husqvarna 525PT5S Gas-Powered Pole Saw

Husqvarna is a well-known and respected name in gas-powered lawn tools. Their 525PT5S Telescopic Pole Saw is an excellent tool that's just priced too high for us to recommend. But it's a great device with some impressive capabilities. For instance, the telescoping pole allows this saw to extend to a full length of 13 feet! That's the longest pole saw we've seen, and it should allow you to cut branches as high as 16-18 feet off the ground.
Of course, all that reach is only helpful if you can actually use the saw when it's extended that far! Luckily, the Husqvarna pole saw is pretty light and maneuverable, making it easy to operate, even when fully extended. It's even equipped with an extra-long 12-inch bar that can cut through large branches that other pole saws can't reach through.
Since this pole saw costs more than three times what other reputable pole saws go for, it's hard to look past any flaws, even minor ones. Though it's got a 25.4cc, 1.34 HP motor we felt that this saw was underpowered. The large bar can get to almost any branch, but the weaker motor made it difficult to cut through.
Pros
Extends to 13′
12″ bar can cut the largest branches
Lightweight and easy to operate
Cons
Very expensive
Underpowered
---
5.

BLUE MAX Gas Pole Saw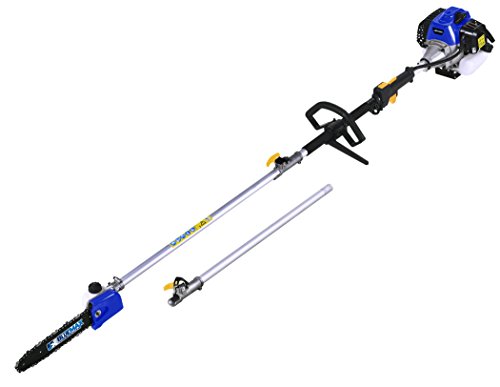 The Blue Max 53542 Gas Pole Saw is made with a lot of plastic parts that give it a cheap feel. The 9-foot reach is underwhelming, too. Despite this, it's still more costly than some of the better performing pole saws we tested, such as the Poulan Pro that earned our top recommendation. Surprisingly, those plastic parts didn't help this tool save any weight. It was one of the heaviest machines we tested, and our arms definitely felt it after using the BLUE MAX.
One thing we did like about this pole saw was the 32.6cc motor. Some of the other pole saws we liked were a bit underpowered, but the one thing we can say positively about this one is that it had plenty of power. We never felt like it needed juice to get through a branch.
We did have an issue changing the length of the pole though. With most of these devices, it's a quick and simple process that takes a few seconds. On the BLUE MAX, it's a giant pain and takes far too long. Worse, it only extends to ten feet at the farthest, leaving us in need of several more feet of reach.
Pros
32.6cc motor offers decent power
Cons
Heavier than other pole saws
Made with plastic parts that feel cheap
Only extends to 9′
Difficult to change the length
---
Buyer's Guide – Choosing the Best Gas Pole Saw
At this point, you've seen our recommendations and you know how some of the most popular pole saws stack up against each other. If you're new to pole saws or you're still not sure of how to decide which one is the right choice for you, then this short buyer's guide was written to help.
What to Look for When Purchasing a Pole Saw
The first things we're going to discuss here are the traits that you should be prioritizing when you're choosing a pole saw. Every person is going to have different needs and will need to pay more attention to certain traits. But if you keep these things in the front of your mind, you'll be on the right track to choosing a pole saw that will perfectly suit your needs.
Reach
How high up are the branches you want to cut? And how tall are you? Saws come in different lengths with extensions to add more reach. Some of them are even telescoping so it's easy to make adjustments on the fly.
The longest poles we saw were able to extend to a maximum length of 13 feet. Keep in mind, your actual reach is going to be determined by not just your pole length, but your height as well. Shorter individuals will have a bit less total reach than taller people. Therefore, shorter people may need to prioritize the length of their pole saw more than tall people.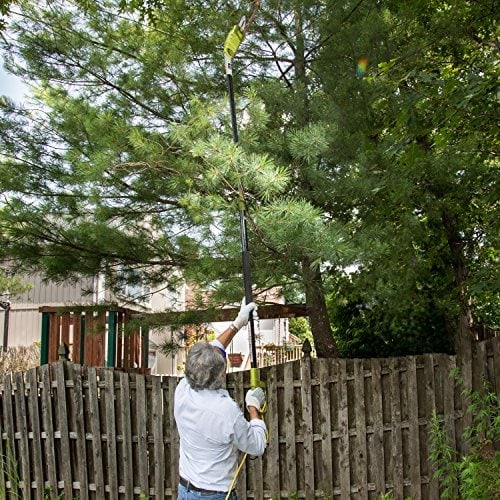 Weight
After considering how much reach you need, you're going to need to think about the weight of the tool. Remember, the heavy part is going to be at the far end, so its weight is going to seem even heavier.
You'll have to extend this saw above your head for extended periods, so even a lighter saw is going to take some physical exertion. If you're a smaller person or not very strong, then finding a light saw might be the most important thing for you. Otherwise, you may end up with a pole saw that you can't actually operate.
Power
Once you know you can lift the pole saw high enough to reach the branches you need to cut, it's time to think about power. If you have an underpowered pole saw, you may end up holding it fully extended for a long time while it slowly works its way through the branch.
On the other hand, a powerful pole saw can cut through branches in mere seconds, reducing the time you have to hold the saw overhead and the time it takes to do your lawn work overall.
But you don't want to just purchase the most powerful saw you can find. Unfortunately, more power comes from a bigger engine, which tends to weigh more. You're going to have to look for something with a good balance of power and weight, based on your own strength and endurance.
Bar Length
Even if you can reach the branch and have the power to cut through it, that doesn't mean that you can. You're going to be limited by the bar length of your saw since you can't cut through something longer than the saw itself.
With an eight-inch bar, you can cut through branches that are less than eight inches in diameter. With a 12-inch bar, you can cut through 12-inch branches or smaller. Pole saw bars range from 8-12 inches, so choose the size that will work with the branches you need to trim.
Safety Tips for Proper Pole Saw Operation
So far, we've discussed how to choose a pole saw to fit your needs. Let's switch gears for a bit and talk about how to operate the pole saw safely. If you're new to pole saws or gas-powered yard tools in general, then the following tips will help make sure you're working as safely as possible.
1.

Work When You Have Plenty of Light
It may seem like a no-brainer, but common sense isn't always common. You shouldn't work when you can't see well, so only work with pole saws and chainsaws during the day when there's ample light.
---
2.

Pay Attention To Wires, Roofs, and Anything Nearby
Before you start to cut, look around and take in your surroundings. Power wires often run right through tree branches and will be sliced through by a running pole saw, creating a dangerous light show in the process.
Roofs can also be close to the tree branches you're trimming, so as a general rule, pay attention to your surroundings before you cut.
---
3.

Wear Proper Safety Equipment
There's a reason that safety equipment exists; to keep us safe. But it can't do its job if you're not wearing it. Cutting tree limbs above your head is inherently dangerous work and certain precautions should be taken. Hard hats, face and eye protection, and even ear protection are all essential when using power saws.
---
4.

Check Your Machine Before Use
The last thing you want to experience is an equipment malfunction. It has the potential to be a dangerous situation. Remember that gas-powered tools require a lot of maintenance. If the maintenance hasn't been kept up, the saw could be on the verge of a real problem.
Make sure there is chain oil in the reservoir, the motor has oil, and the chain is tight. Always check these before you start cutting to ensure you're not headed for destruction.
---
Conclusion
Now that you know exactly what you should be looking for in a pole saw, we're going to revisit our recommendations from the reviews you read earlier. For us,
Our best gas-powered pole saw overall was the Poulan Pro PR28PS. This pole saw addresses the poor starting experienced with most gas-powered tools by using a spring-assisted starter and SureFire fuel delivery system. The result is an easy-to-start pole saw that's lightweight and reasonably priced. The MAXTRA 2-Cycle Gas Pole Saw is our runner-up for best gas pole saw. It's equipped with a powerful 42.7cc motor that keeps the chain spinning no matter what. Plus, it extends to 11.4 feet long and is protected by a one-year warranty.
For the best value gas pole saw, we recommend the TrimmerPlus PS720 8-Inch Pole Saw. If you've already got a motorized base to attach to, this attachment pole saw can save you tons of money without sacrificing features. It extends to 11 feet at full length and even includes a two-year warranty for peace of mind.
We truly hope that our article helps you find the best gas-powered pole saw for your needs!
More related to pole saws: