10 Bedroom Décor Trends in 2023 – Design Ideas for a Modern Home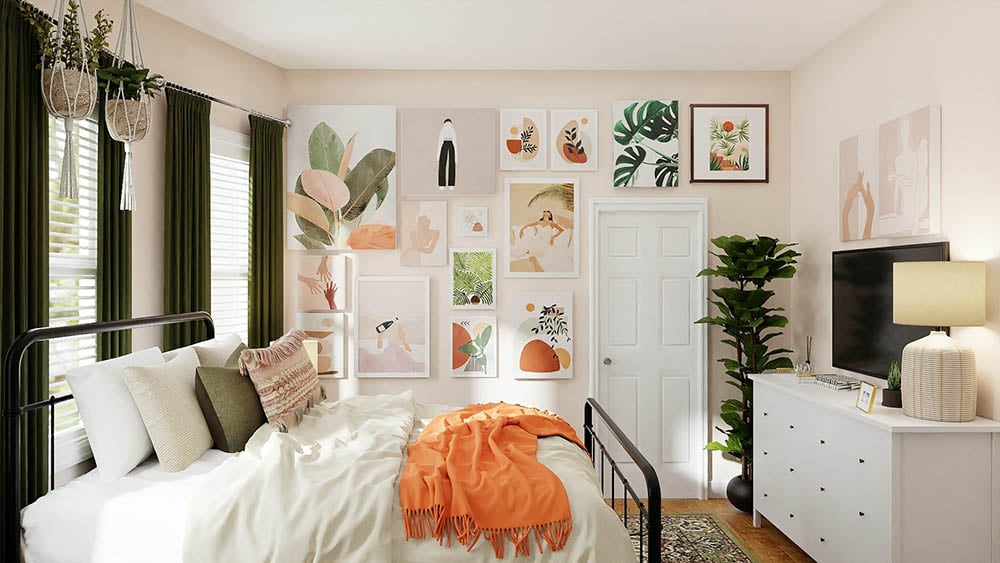 The bedroom is where we spend much of our lives, so it's not surprising to have questions about what the most popular trends are each year. If you are looking to spruce up your bedroom but aren't sure where to start, you've come to the right place. We look at the popular bedroom décor trends this year and give you a few examples of each so you can get ideas about what you would like in your home.

Top 10 Bedroom Décor Trend Examples
Designing for Comfort
1.

Cozy Boho Bedroom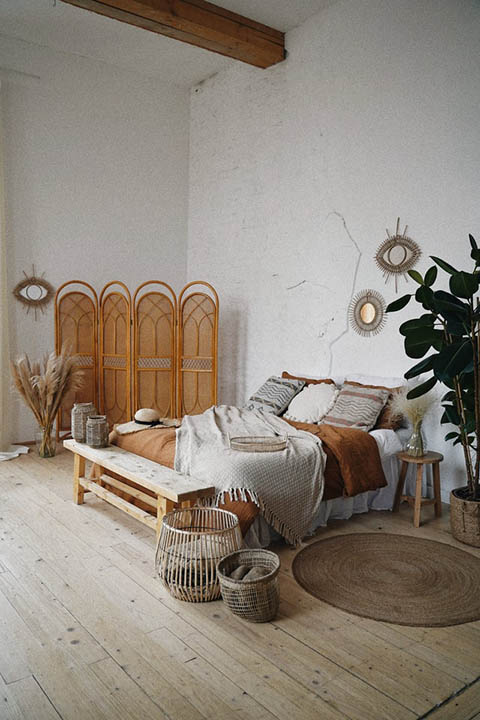 The Cozy Boho Bedroom fits into the category of designing for comfort. This attractive design uses an old wood pallet to help make it easier to get into the bed. It also incorporates live plants, which is another popular trend because they help make the environment more inviting and often release a pleasant fragrance.
---
2.

Victoria Design Home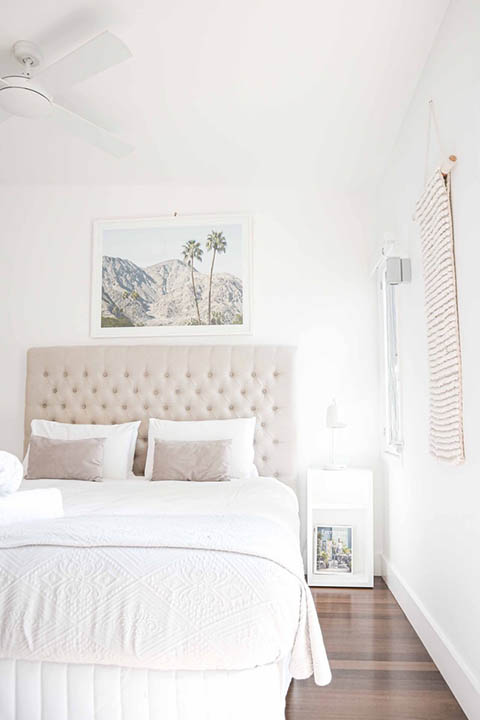 The Victoria Design Home is a simple design that puts comfort first. The white table and the rest of the light-colored room help distribute the light better, as well as give you a workplace. The design also incorporates live plants, which will help make the room more pleasant.
---
3.

Empatica Bedroom Design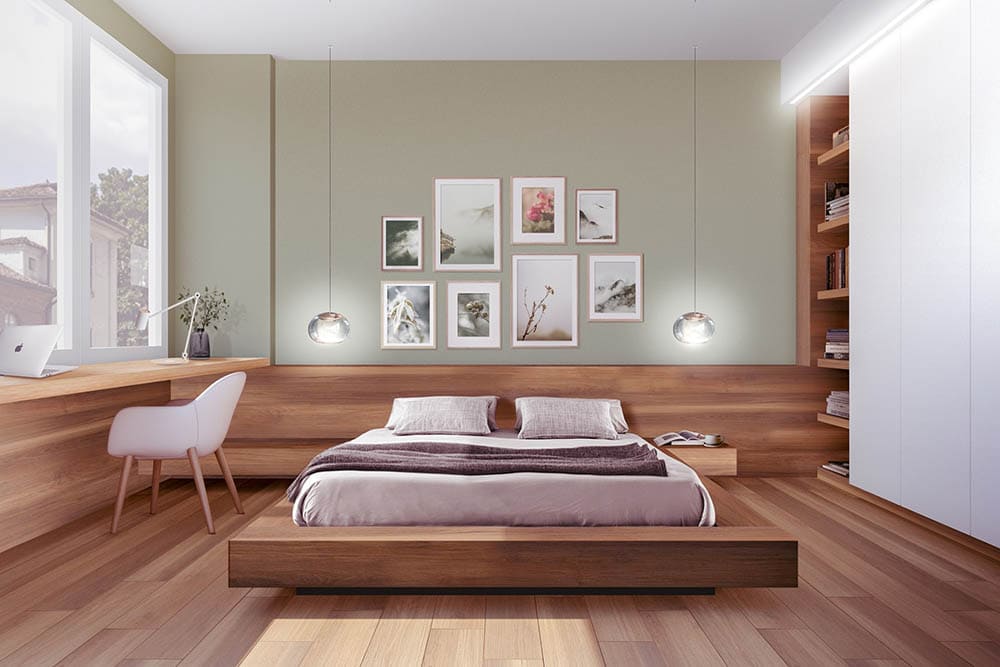 The Empatica Bedroom design increases comfort by lowering the bed to make it easier to get in. The fluffy carpet is attractive and nice to walk on, and the darker colors make it easier to relax. The low-hanging light illuminates the table holding your belongings without shining a bright light in your eyes, even when you are lying down.
---
4.

Scandi Bedroom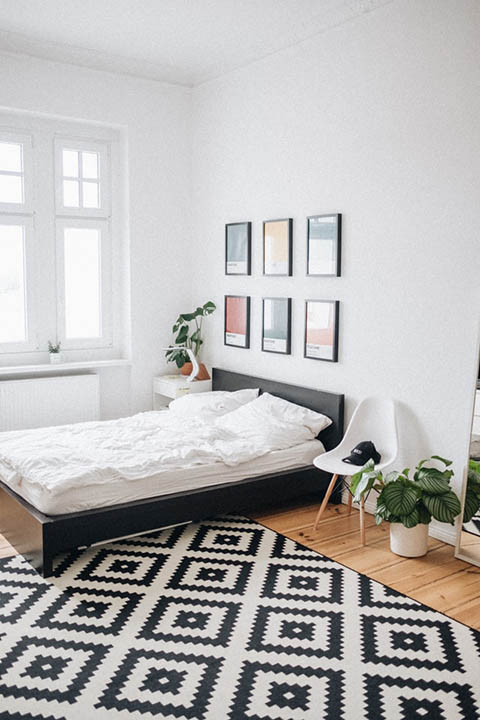 The Scandi Bedroom is a design that increases comfort to the point that you won't want to leave the room! It has an extremely comfortable bed with soft pillows. The large storage bin at the bottom of the bed will hold plenty of clothes or toys, and the wooden bench is a great spot to sit and get ready for work. Wood is also a popular modern trend because it's biodegradable and replenishable, so it's better for the environment.
Related Read: 10 Scandinavian Interior Design Ideas (with Pictures)
---
Large Headboard
5.

I Should Be Mopping The Floor Headboard
The I Should Be Mopping The Floor Headboard is a large headboard design. It's a DIY project that uses old closet bifold doors, and you can use something similar. It's also possible to finish the old doors in many different ways so it will match with any décor.
---
6.

Derring Hall Design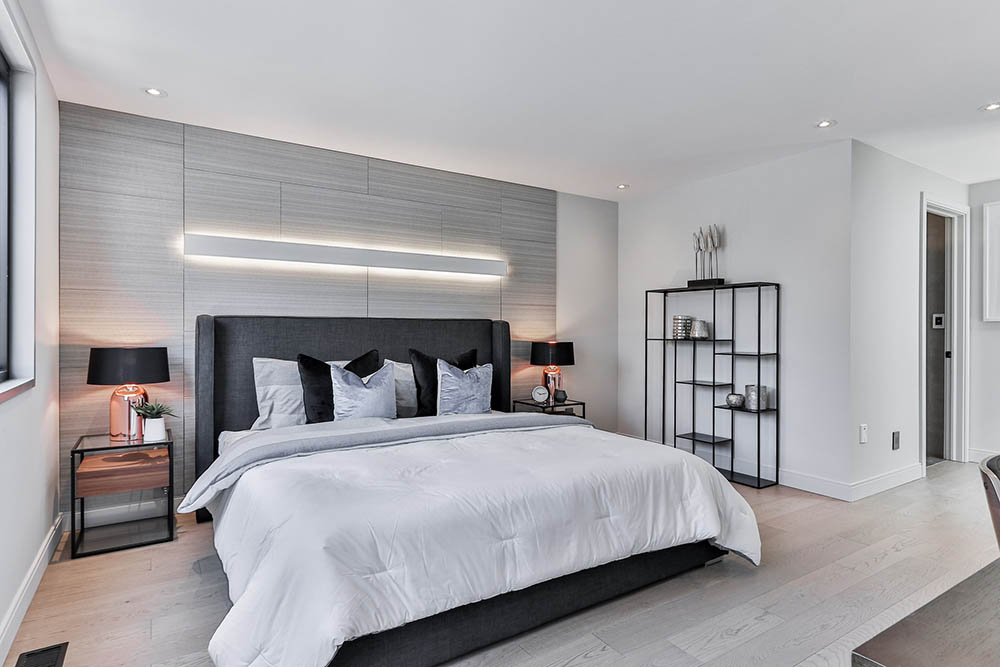 The Derring Hall design is a great example of how amazing an oversized headboard can look in the bedroom. The dark colors help make the room more comfortable even though it has a large window. The floating storage space on each side of the bed is also quite attractive and functional.
---
7.

Etsy Headboard
The Etsy Headboard is a great design that uses the maximum vertical space in your bedroom. It has cushioned tiles that are extremely attractive and will help silence any noise. We also like the patterns on the wall that match the bed.
---
8.

Lamps Plus Headboard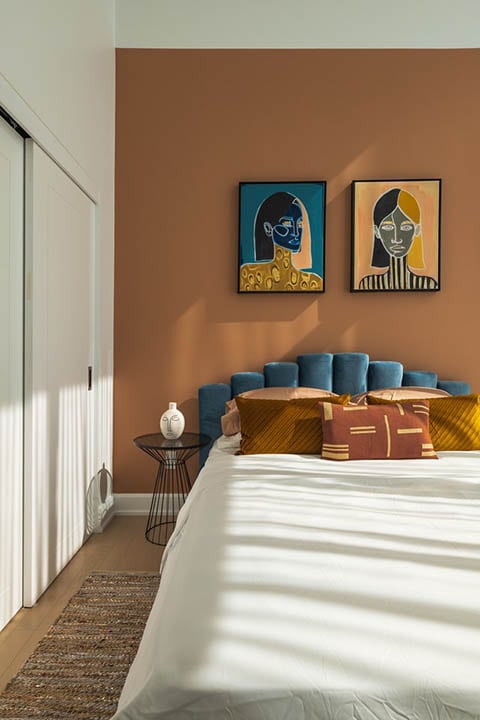 The Lamps Plus Headboard is a fantastic design that uses a large cushion to create the headboard. It works well to add color to the bedroom, and it's also quite comfortable.
---
Artwork
9.

Etsy Abstract Wall Art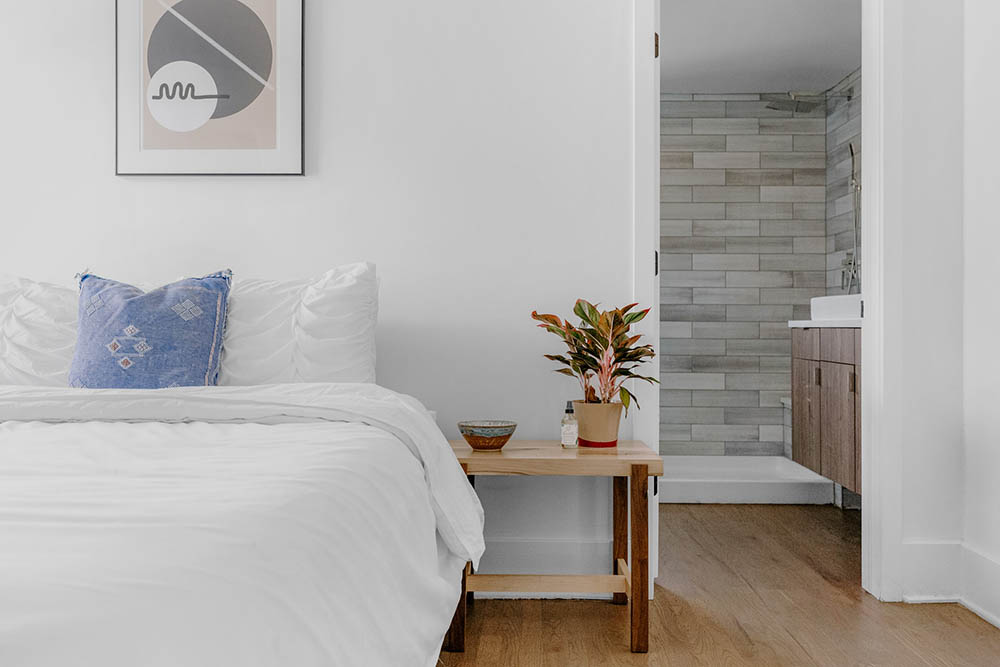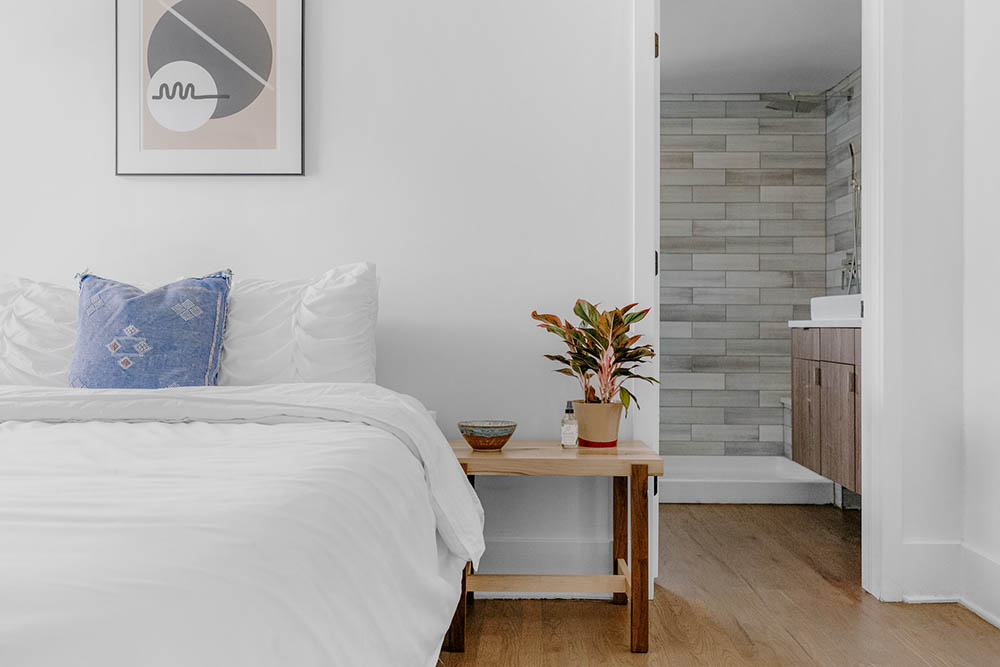 The Etsy Abstract Wall Art is a great example of the modern trend to add artwork to the bedroom. This design uses several paintings that match the surrounding décor to help make the room more three-dimensional. It uses several wooden chairs too, which are also trendy right now.
---
10.

Herbarium Study
The Herbarium Study is a design that uses artwork effectively, and it makes use of several pieces that will help accent any bedroom. Large fluffy pillows that match the frame help make the design more three-dimensional.
Bedroom Décor Trends
Designing for Comfort
One of the most popular current trends in bedroom design is aiming for comfort. Risers that make it easier to get in and out of bed are popular, as are lower beds and more seating so it's easier to get ready for work in the morning and more comfortable to lounge around in at night.
Large Headboard
It's tough to beat the oversized headboard when designing a bedroom with a strong modern appearance, which is likely why it is so popular right now. Some of these headboards use all the available wall space, and they can be hardwood or something soft and cushiony.
Artwork
While artwork, like paintings, has always been popular in the bedroom, it's been experiencing a recent upsurge as more independent artists are creating attractive artwork and people are enjoying adding more color to the room. It can also help the room look more sophisticated, so it's a great choice for the young and old.

Conclusion
Designing for comfort is a fantastic idea that will remain a trend for quite a while. Additional steps or a lower bed might seem strange at first, but you will wonder why you didn't do it sooner once you're used to it. A large headboard is great for people who want something unique, and it can act as a sound barrier that helps keep your activities more private and enables you to get a better night's sleep. Artwork is something that everyone can enjoy and even if you don't know anything about it, you can simply choose something that you like that makes the room more fun.
---
Featured Image Credit: Spacejoy, Unsplash