10 Best Torque Wrenches of 2023 – Top Picks & Reviews
Using the correct tool for the job helps you to achieve the best results. While many adjustable wrenches will work on nuts and bolts, torque wrenches will do the best job. Why, you ask? Well, torque wrenches prevent over-tightening and are designed for accurate torque settings.
They're also much easier to handle than their counterparts, making the job more convenient and efficient. That's part of the formula, but there are other things to consider when choosing the right torque wrench. You have to know their features, benefits, and drawbacks to determine the one you require, which is why we've done 10 reviews of torque wrenches that you should check out.
On top of that, we've also included a buyer's guide that will detail exactly what you should look for in a torque wrench to meet your needs.
A Quick Glance at the Winners of 2023
Rating
Image
Product
Details

Best Overall

TEKTON 24335 Drive Click Torque Wrench

Good quality
Lifetime warranty
Reasonable accuracy
CHECK PRICE

Best Value

Capri Tools 31000 Torque Wrench

Value for money
Perfect for hard-to-reach spots
Durable
CHECK PRICE

Premium Choice

Industrial Brand CDI 2503MFRPH Torque Wrench

Great range
Good retention and removal
High accuracy
CHECK PRICE

ACDelco ARM601-4 Digital Torque Wrench

Advanced technology for torque range notification
Great accuracy
High quality
CHECK PRICE

Neiko Pro 03709B Drive Adjustable Torque Wrench

Durable
Broad torque range
Great quality
CHECK PRICE
The 10 Best Torque Wrenches
1.

 TEKTON 24335 Drive Click Torque Wrench – Best Overall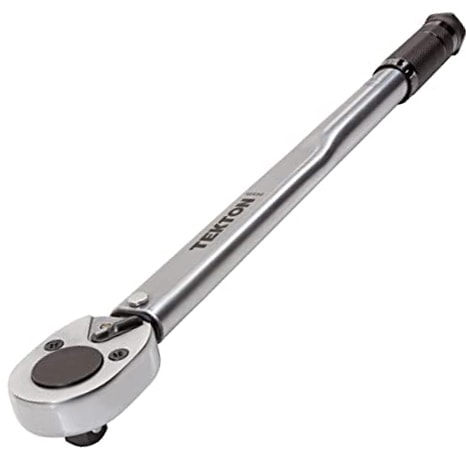 You don't have to worry about this wrench breaking because Tekton has made it from durable steel, and it has no plastic parts that can wear out or break. Also, they've included a storage case. Tekton calibrated it to ±4% accuracy so that you can tighten fasteners to prevent parts from being poorly secured.
The manufacturer has taken the guesswork out of the equation with the clicks that the wrench emits when you reach the desired value. You can drive fasteners in both directions thanks to the reversible ratcheting head, and it measures torque in a clockwise direction. All you do is set your value on the high-contrast dual-range scale, which is readable in low light.
This wrench has a torque range of 10 to 150 foot-pounds (ft-lb), and its length is 18⅜ inches. The combination of its design, quality, and pricing make this the overall best torque wrench from the 10 that we've reviewed. You'll also get a lifetime warranty. The only downside is that it only measures torque clockwise.
Pros
Good quality
Lifetime warranty
Reasonable accuracy
Cons
Measures torque only clockwise
---
2.

Capri Tools 31000 Torque Wrench – Best Value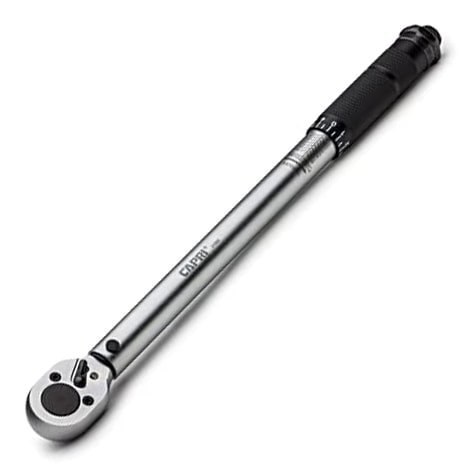 The Capri 3100 Torque Wrench has a ⅜-inch drive, making it more compact than other wrenches, which is good for accessing hard to reach spots. It has a torque range of 10 to 80 ft-lb and provides ±4% calibration, coupled with a NIST calibration certificate to verify its accuracy.
This supplier made a knurled handle so that you can get a firm grip, and they've used pulse-stop technology to indicate when you've reached the desired torque. Unfortunately, the indicator noise is weak, so you must use proper technique.
The 3100 Torque Wrench has 24 teeth and works in ½ ft-lb increments to ensure adjustable accuracy. After examining this wrench's specs and comparing them to the price and other wrenches, we found that the Capri Tools 3100 is the best torque wrench for the money. Keep in mind is that it has a narrow torque range. It's mostly suitable for small size fastening, but it's perfect for the hard to reach areas.
Pros
Value for money
Perfect for hard-to-reach spots
Durable
---
3.

Industrial Brand CDI 2503MFRPH Torque Wrench – Premium Choice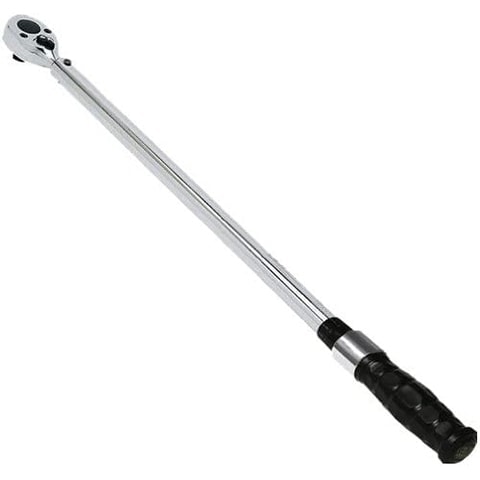 If you want a great torque range, then the CDI 2503 is your go-to wrench. You'll get 30 to 250 ft-lb torque range and a ½-inch drive. They've equipped it with a quick-release button to ensure good socket retention and removal. They've also included a positive lock with a spring-loaded pull-down lock ring so that you can fasten quickly and easily.
The dual scale is easy to read and calibrated in both directions. This type of wrench is more suited for professionals who are going to use it continuously throughout the day. It's not really aimed at a homeowner who'll use it on weekends. The only feature-based setback of this wrench, and the reason it didn't make it into the top 2, is that it's more expensive than other wrenches on the list. However, it's worth the money if you want a high-quality tool.
Pros
Great range
Good retention and removal
High accuracy
---
4.

ACDelco ARM601-4 Digital Torque Wrench
While some torque wrench suppliers rely on clicks to indicate that the desired torque has been reached, ACDelco fitted a buzzer alarm, as well as vibration and a flash notification. This electronic torque wrench comes with an LCD display to show you the measurements, making it ideal for reaching high-precision torque adjustment. This wrench works on 2 AAA batteries and has a multiple setting function for measurements, torque, mode setting, and Peak & Trace.
ARM601-4 has a 10 to 100 ft-lb range and a ±1.5% accuracy clockwise and a ±3% accuracy counterclockwise, accompanied by an NIST certificate. Although, that accuracy only applies from 20 to 100% max torque.
ACDelco has made this torque wrench from sturdy material and have offered a 1-year warranty. It's very lightweight and durable, but the torque range is moderate. Its 16⅛-inches in length, so it's perfect for keeping in your car. It doesn't have a backlight for the display, and since it works on batteries, you'll have to replace them. Otherwise, it delivers great accuracy and real-time torque range feedback.
Pros
Advanced technology for torque range notification
Great accuracy
High quality
---
5.

Neiko Pro 03709B Drive Adjustable Torque Wrench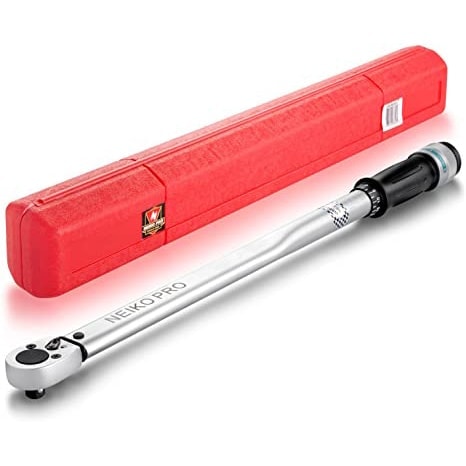 You're bound to get durability out of the Neiko 03709B wrench with its heat-treated chrome vanadium steel, providing shock resistance during use. You'll get to experience the 50 to 250 ft-lb range and the ½-inch drive. Neiko has also included a blow molded case for protection and cleanliness.
They calibrated the wrench to provide ±4% accuracy and made an embossed steel handle with dial in torque settings. So, the quality and the durability of this wrench are great, but they also come with a drawback.
Neiko Pro 03709B is 25-inches long and weighs 6 pounds, making it quite bulky. The weight and the dimensions result in challenges when you try to access hard to reach spots. Also, it might be great for tightening nuts but could prove to be a struggle with suspension bolts. You might find that the wrench doesn't perform well on higher settings.
Pros
Durable
Broad torque range
Great quality
---
6.

EPAuto ST-010-1 Drive Click Torque Wrench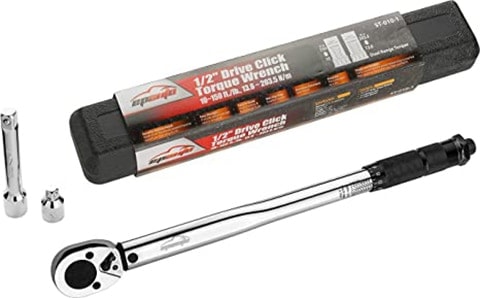 The great thing about the ST-010-1 is that it's affordable, yet it has quite a few features that other wrenches on the list also have. You'll get a 10 to 150 ft-lb torque range and a ½-inch drive. EPAuto has made a knurled handle and made the wrench from hardened treated chrome vanadium steel to ensure that it's durable.
This pre-calibrated wrench gives you ±4% accuracy and also provides a dual-range scale. It has the click sound to inform users when they've reached their desired torque. EPAuto has also included ½-inch drive, 5-inch extension bar and ½-inch drive to ⅜-inch drive reducer, enabling you to fasten a variety of nuts and bolts. With these accessories, you'll be able to work on wheel replacement, trucks, garden equipment, and motorbikes.
The one thing that you need to watch out for with this wrench is that it's possible for it to overtighten a bolt. Make sure that you stop as soon as you hear the click or risk stripping the threads.
---
7.

TACKLIFE HTW1A Drive Click Torque Wrench
The Tacklife HTW1A is a stainless steel wrench with a reversible ratchet, so it's suitable for clockwise and counterclockwise, but measures torque only in clockwise direction. The accuracy of this wrench is ±4% calibration, but the grip is made of rubber and plastic. They've also added a black chrome coating to prevent the wrench from rusting and skidding.
The great feature of this wrench is that it also comes with accessories. You'll get a 2.95-inch extension bar and ½-inch and ¼-inch adapters to get to the hard to reach areas. You'll hear a click when you've reached your desired torque, and you can also use the lock button after adjusting the stability of the torque.
It's 14¾ inches long and weighs under 3 pounds. That's great because it's compact and light, but the steel construction ensures its durability. The problem with this wrench is that it provides a torque range of only 10 to 80 ft-lb, which is very moderate.
Pros
Durable
Great accessories
Compact and light
---
8.

eTORK C3250 Click-Style Torque Wrench
After you've preset the torque value, you'll hear a click on the C3250 to let you know that you've reached it. eTORK has produced this wrench from steel, yet it weighs only 3 pounds but provides a great torque range of 50 to 250 ft-lb. The one advantage that the C3250 has over most of the wrenches on this list is that it provides ±3% accuracy, whereas most of the others provide ±4%.
You also get the benefit of measuring torque in clockwise and counterclockwise direction. There's also the lifetime guarantee that comes with the product, making it more appealing. It is quite a lengthy wrench at 20 inches long. The other aspect that is important is durability. This tends to be a wrench that's more geared toward people who don't use it every day for hours. It's not really meant for professionals.
Pros
Good accuracy
Measure torque in both directions
Cons
Quite long
Durability is an issue
---
9.

LEXIVON LX-183 Drive Click Torque Wrench
You won't need to struggle to see the dual-range scale on the LX-183 in low light because it's printed in yellow. It measures torque in clockwise direction only, but it has a reversible ratchet head.
This all-steel wrench provides ±4% accuracy and has a decent torque range of 10 to 150 ft-lb. Its weight is less than 4 pounds and is 16 inches in length, so it's a reasonable weight and a decent length. It also comes with a case.
This Lexivon wrench is on the upper scale of the price range when you compare it to what you get. Also, it doesn't provide the same results compared to the other wrenches on this list. If this wrench measured torque in both directions, then the price might've been justified. Overall, it's a pretty mediocre product.
Pros
Dual-range scale visible in low light
Decent torque range
Cons
Pricey
Measures torque only clockwise
Performance is subpar
---
10.

Craftsman 9-31425 Drive MicroTork Torque Wrench
If you want a light and compact wrench, then the Craftsman 9-31425 might be just right for you. It's 13 inches long and weighs only 1 pound. This ½-inch drive wrench offers a torque range between 20 to 150 ft-lb. Craftsman calibrated it so that it provides ±4% accuracy, but it doesn't come with a calibration certificate.
It's got a twist ring with lock/unlock setting to make it easier for you to tighten, but you have to hold the square socket drive to reserve the ratcheting direction. If you don't, the whole assembly will rotate. As for the durability, it's not the type of wrench that can be used for the long-haul if you plan to use it a lot. The quality of this wrench isn't that great. If it was, then the price of this product would be somehow justified. The problem is that the product is very pricey, but it doesn't hold up for a long period.
Pros
Decent torque range
Light and compact
Cons
Very pricey
Low quality
No calibration certificate
---
Buyer's Guide – Finding the Best Torque Wrench
Before buying a torque wrench, there are a few things that you have to consider. It's certain aspects that determine the outcome of the tightening and also other important factors such as durability and the accessories that are needed to perform the job.
Why Do I Need One?
Keep in mind that torque is a twisting force. It's sort of like the muscle that you use to twist a cap off the bottle. So, when you tighten a bolt or a nut with a wrench, you're applying torque. If that's the case, then why can't we use our fingers or a regular metal wrench?
With certain types of fasteners that are commonly used on mechanical devices such as automobiles, you need to tighten it to a specific amount so that it works properly. Overtightening it or leaving it just a little bit loose can result in a subpar performance. In some cases, the mechanical device can wear out after prolonged use if the fastening isn't correct.
This is what makes the torque wrench so valuable. It gives you the most accurate reading of your desired torque.
Important Features
Accuracy
Accuracy is possibly the most important feature that you should consider when buying a torque wrench. If the torque wrench is inaccurate, it will lead to overtightening and possible breakage. Most suppliers provide a calibration of ±4% accuracy and accompany their product with a calibration certificate to prove legitimacy. That's a decent accuracy rate, and anything below is the type of wrench that you should strongly consider.
Quality
This is key. It's pointless to buy an accurate torque wrench, but it breaks easily. Also, consider if you're going to use the wrench daily or if you're a homeowner who might need it on occasion. Either way, make sure that it can last. Digital torque ranches are usually high-quality, but the wrenches that are made of pure steel tend to be sturdy and can sometimes even be cheaper. One of the ways to determine the wrench's quality is by comparing it to international standards. Usually, if a wrench comes with a guarantee, it's a sign that the supplier believes in the product's quality.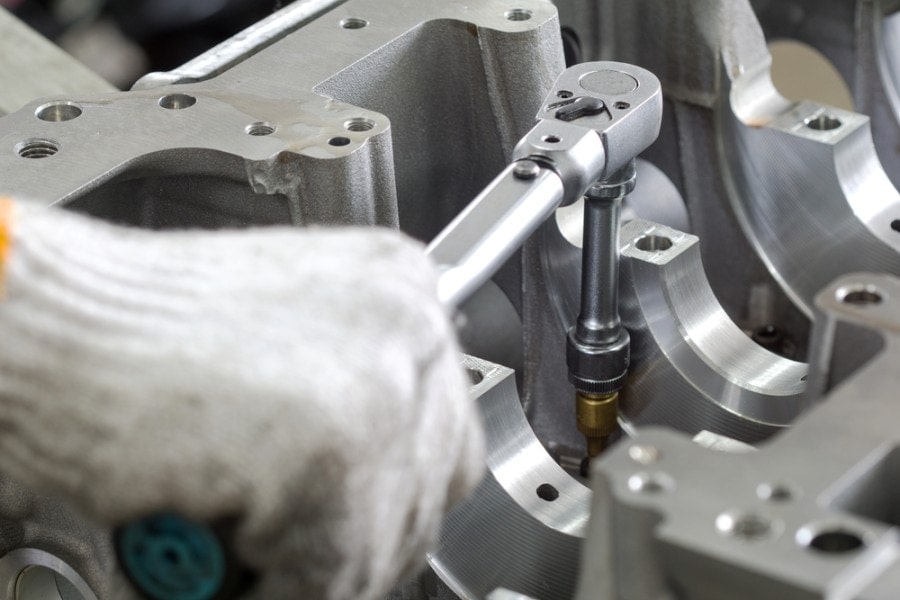 Range
A wrench's torque range determines the kinds of jobs that you perform. If a wrench has a range that's lower than 100 ft-lb, that's considered narrow. That limits you from performing bigger jobs. Having a wrench with a small range isn't always a bad thing because it allows you to do the smaller jobs that bigger wrenches might struggle to access. A wrench that has a range from 10 to 250 ft-lb is considered a broad range.
Dimensions
This feature is important since it affects the kinds of jobs that you can do and for how long you can do them. There are wrenches that weigh 6 pounds and are more than 22-inches long. That's considered a bulky wrench, which will take a strain on your arm if you work with it for prolonged periods, and it also determines where you can use it. It's always best to go for a light and compact wrench, but it has to get the job done that you want.
Ratcheting head
You should always go for a wrench that has a reversible ratcheting head. The other important feature of the ratcheting head is the direction that it measures torque. Most measure torque only in the clockwise direction, so you should look for ones that can measure torque in counterclockwise as well.
Different Types
Beam or Deflection – this type is considered the simplest and usually the cheapest wrench of the four types. Although you'll save money by purchasing a beam wrench, you'll also struggle to get the desired torque value because it tends to be the least accurate of the four, making it difficult to operate. If you go for this type, you should look for a large pointer or gauge face when you're working in spots with dimmed lighting.
Dial – contains a dial that displays the amount of torque you've applied. Once the wrench has reached your desired torque, you can stop fastening. That requires you to keep your eye on the dial to ensure that you don't overtighten, which can be inconvenient.
Click – most of the popular wrenches work on a click mechanism. These types of wrenches allow you to set the desired torque value and work like a ratchet wrench until it has tightened to your predetermined value. Once that happens, the wrench notifies you with an audible click.
Electronic – these wrenches tend to be more expensive than mechanical ones because they combine the benefits of a dial and click wrenches. The digital display shows you how much torque it has applied. Once your desired torque is reached, it informs you by buzzing and vibrating. It also has a flash notification.

Conclusion
The above reviews of the best torque wrenches reviews have highlighted the features that you can expect from each one and how they could impede you from getting the optimal performance. After comparing all of them, we found that the TEKTON 24335 Drive Click Torque Wrench was the best torque wrench overall since it had the best features and was a top-of-the-line product.
Finding a product that provides you will all the features needed to complete a job is important, but finding one with a great price makes it even more alluring. We found that Capri Tools 31000 Torque Wrench was the best torque wrench for the money because it had several great features but was affordable. If you're a professional and want a premium product, then the Industrial Brand CDI 2503MFRPH Torque Wrench will be your top pick as the best value to buy.
You might also be interested in: