43 Common Types of Flowers in the US (with Pictures)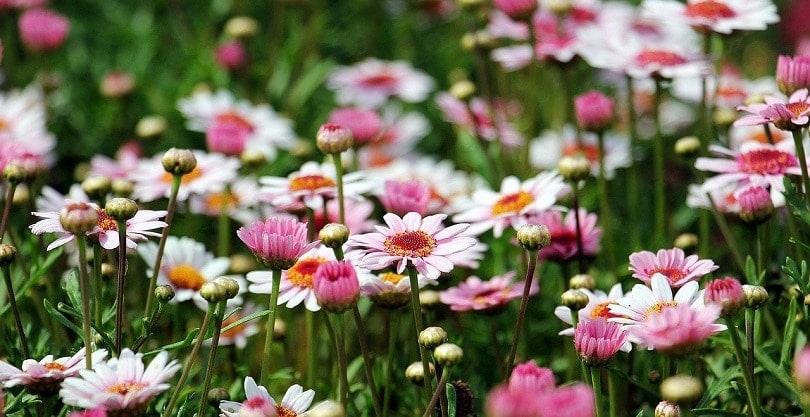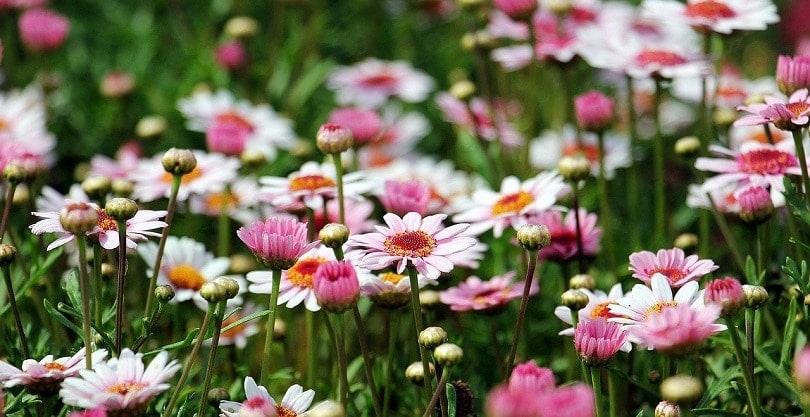 Are you looking to plant a garden this year, but you're unsure of what to choose? Check out our list of some of the most common types of flowers you can grow in the United States.
From alliums to zinnias, there's bound to be a few flowers in here that you'd love to pick for your landscape.

The 43 Common Types of Flowers in the US
1.

Allium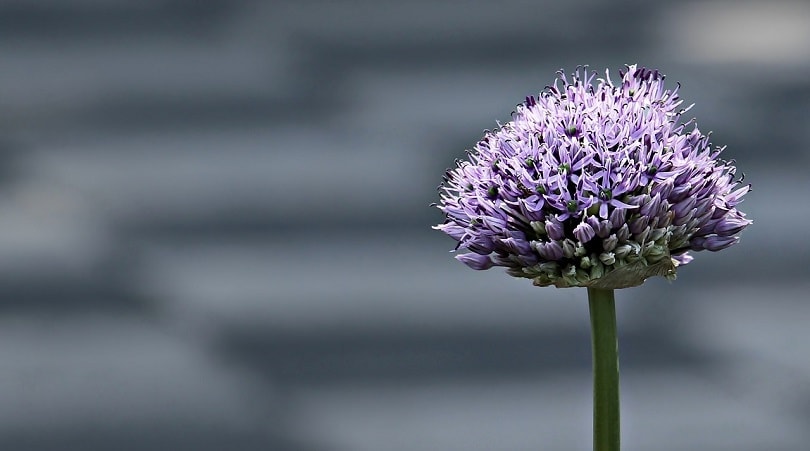 | | |
| --- | --- |
| When in Bloom: | Late spring |
It's easy to understand the allure of the allium. They grow directly upward to the sky from their bulbs and top off with a globe-shaped pom at the end. And, on the plus side, rodents will leave these bulbs alone and allow them to grow!
---
2.

Aster
| | |
| --- | --- |
| When in Bloom: | Mid-summer to autumn |
These perennials are wonderful to have around as they retain their pink and purple colors all the way to autumn. While it may seem like the pinks clash against the fall season colors, we think they provide a stark, complementary contrast.
---
3.

Azalea
Azaleas grow in shrubs that last throughout the spring. They come in several different colors, however, they're most commonly known for their pinkish magenta hues. They can also come in several different sizes ranging from a ½-inch to 5-inch wide flowers.
---
4.

Begonia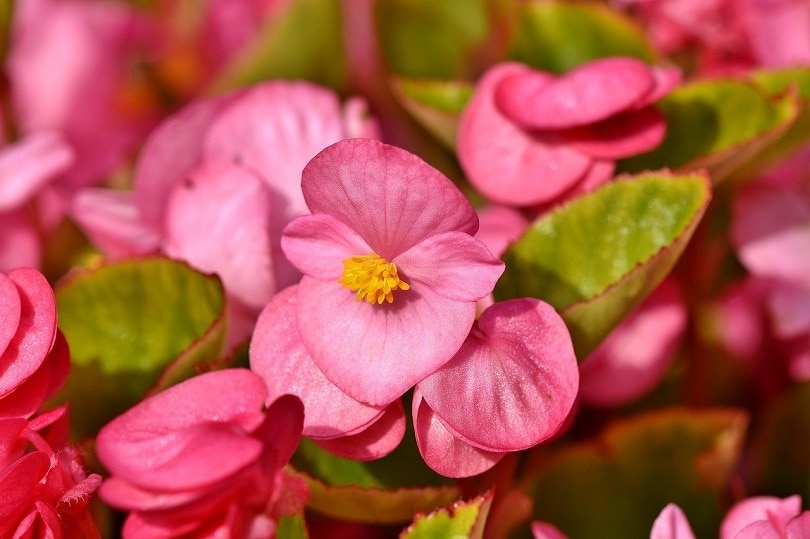 | | |
| --- | --- |
| When in Bloom: | Spring to summer |
Begonias are a wonderful blooming flower that has a distinctive layering. They are very hardy flowers and resist diseases and pests with relative ease. There are also some variations of the flower that bloom all year round including through hard freezes.
---
5.

Black-Eyed Susan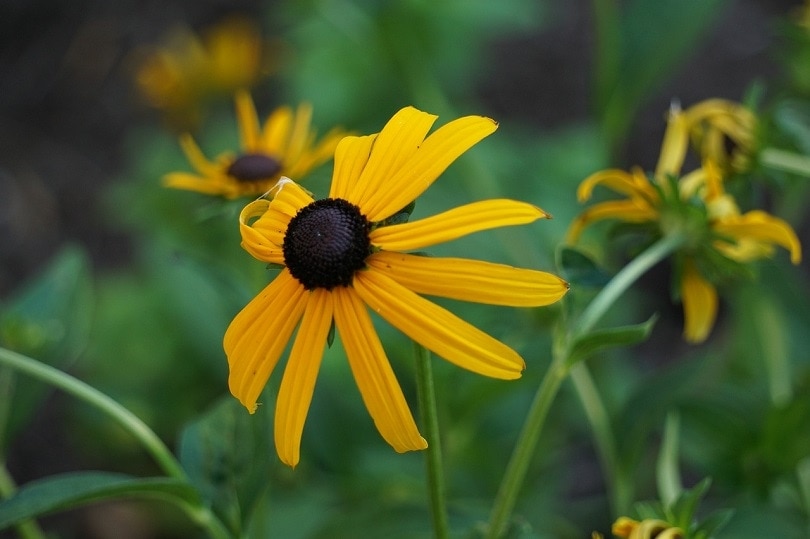 | | |
| --- | --- |
| When in Bloom: | Late summer to early autumn |
These flowers are unmistakable with their simple, but elegant look. They somewhat resemble mini-sunflowers and bring a bright cheeriness to any day. They also bloom during the same time as sunflowers helping to welcome the fall season.
---
6.

Carnation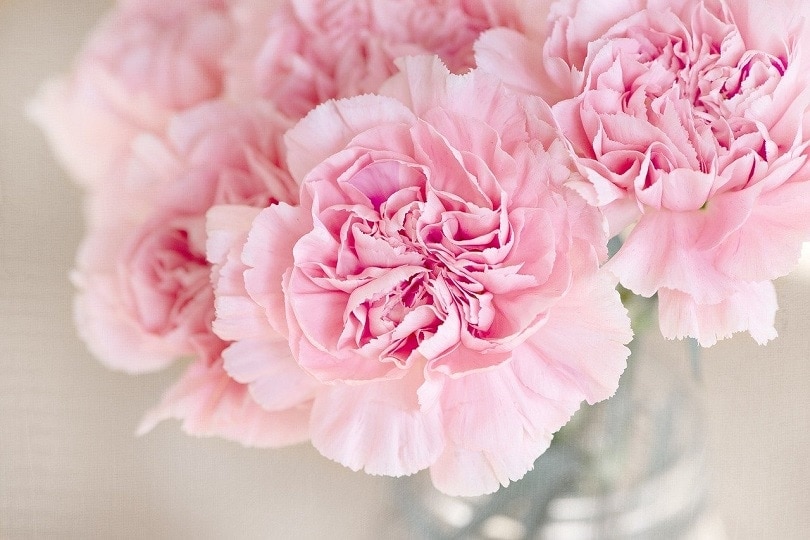 | | |
| --- | --- |
| When in Bloom: | Early spring to late summer |
No bouquet is complete without carnations. These flowers come in a humongous array of colors and can liven up almost any mood. While these are commonly given to whomever you love, carnations can also be a very thoughtful gift that signifies friendship.
---
7.

Catmint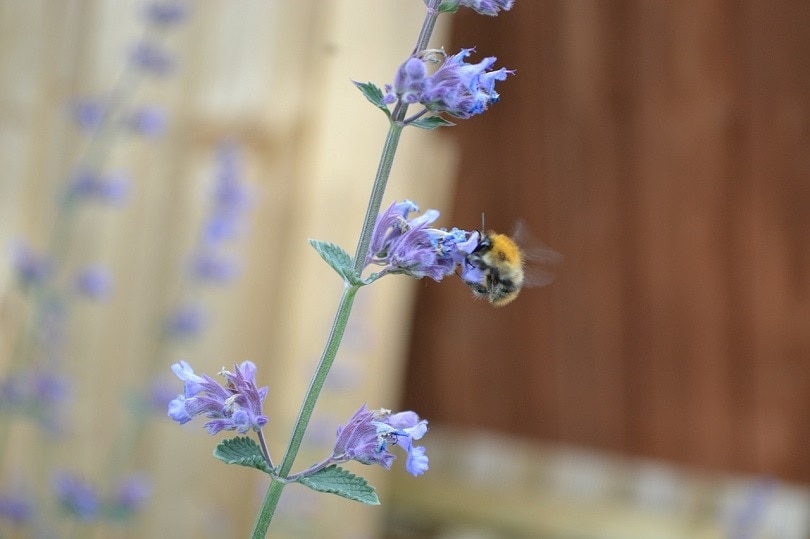 | | |
| --- | --- |
| When in Bloom: | Early summer to autumn |
Very closely related to catnip, it can be difficult to differentiate between the two. Catmint, though, has beautiful lavender-colored flowers and is the more ornate of the two. However, just like catnip, some felines go crazy over this stuff.
---
8.

Clematis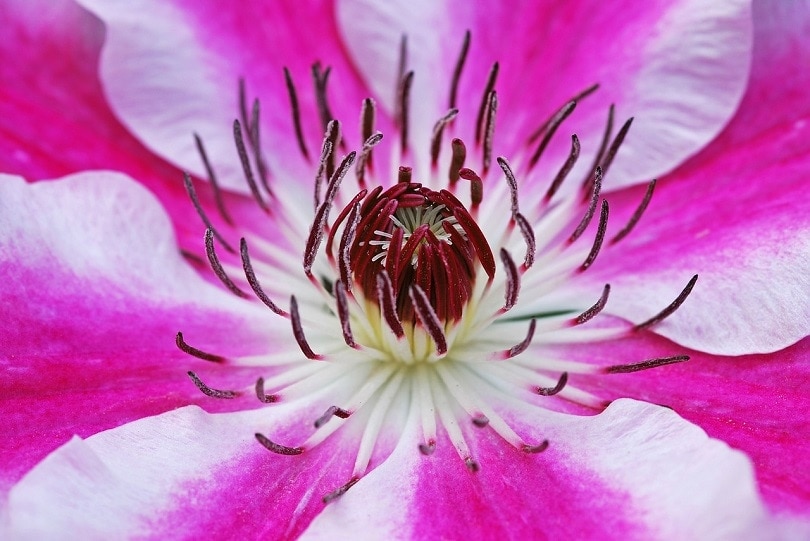 | | |
| --- | --- |
| When in Bloom: | Spring to late summer |
This flowering vine blooms between the spring and summer months to produce an extremely unique and beautiful backdrop. However, you'll need extreme patience with these. Clematis can take a few years before they are ready to set up and produce stunning results.
---
9.

Chrysanthemum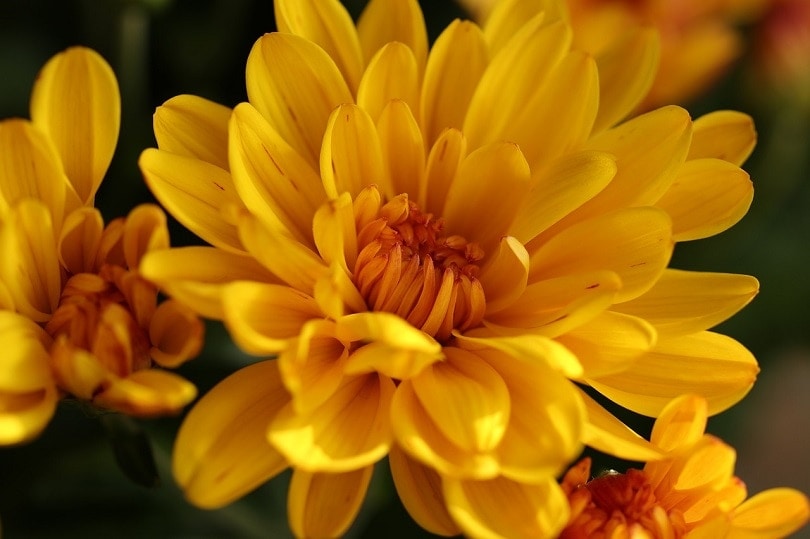 | | |
| --- | --- |
| When in Bloom: | Late summer to late autumn |
These flowers not only have the title for the hardest flower name to pronounce, but they're also a trademark of the fall season. They come in just about any color you can imagine; however, they look their best in burgundies, oranges, and golden hues.
---
10.

Columbine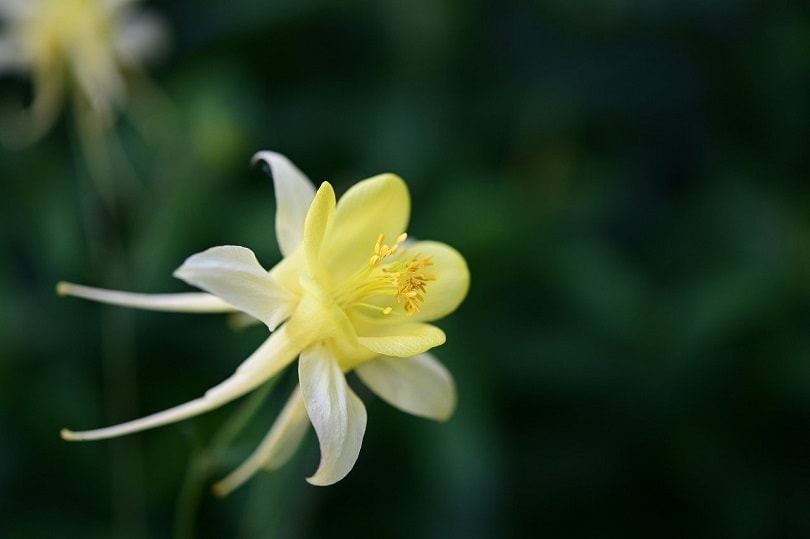 Don't be fooled by their delicate and dainty appearance. These perennials are tough and cold-resilient. Their two-toned petals and bright yellow stamen make these flowers pop! They look their best when planted among a bouquet of other springtime flowers.
---
11.

Coneflower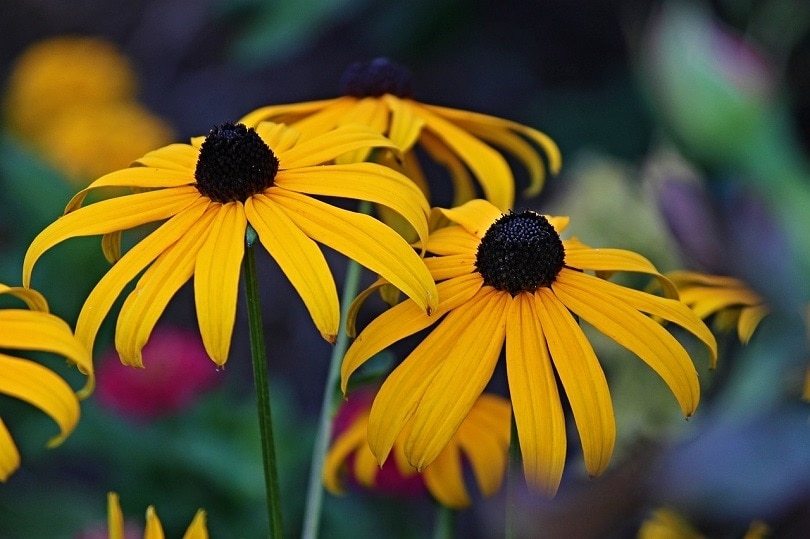 | | |
| --- | --- |
| When in Bloom: | Early to late summer |
Coneflowers are among the most interesting looking flowers you'll come across. They look as if they've been turned inside out. But they're absolutely gorgeous. Plus, these shuttlecock-esque blooms are incredibly hardy and drought-resistant.
---
12.

Crocus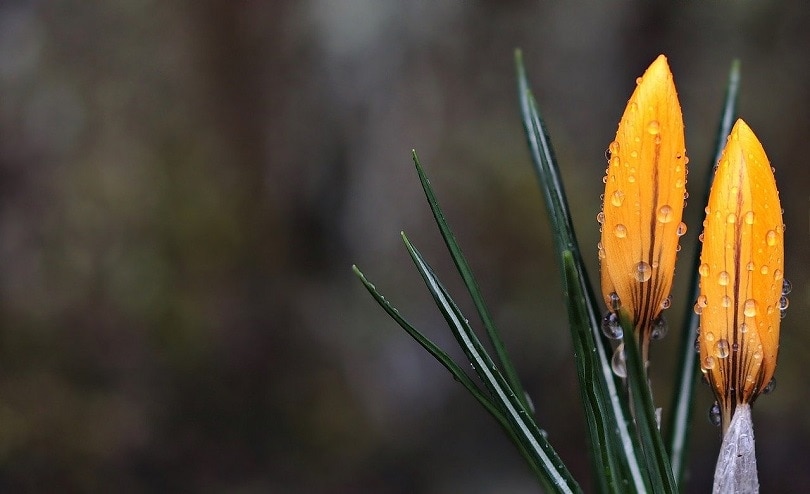 When you see your crocus start to bloom, that's a good signal that spring is arriving. These are often among the first springtime bloomers, commonly sprouting when snow is still on the ground. If you're looking to catch them at their best, be sure to plant them in the fall for the best next-year yield.
---
13.

Daffodil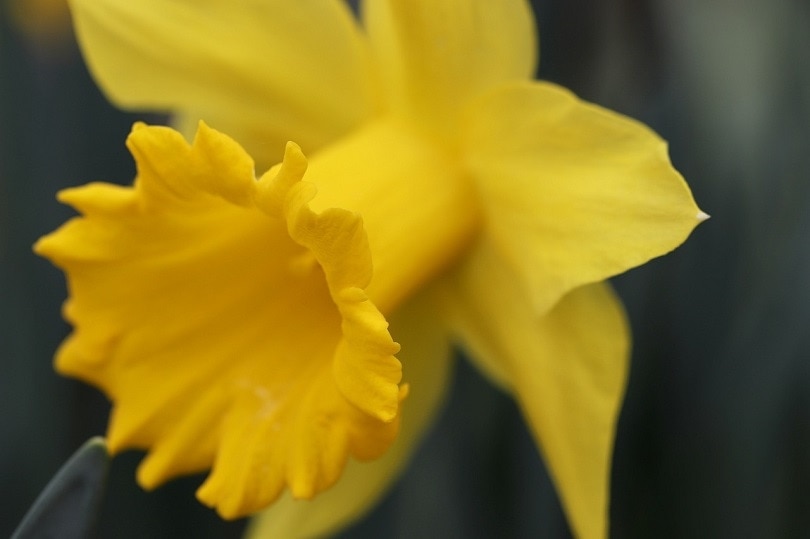 | | |
| --- | --- |
| When in Bloom: | Early spring |
Crocuses aren't the only springtime early birds. Daffodils also rank as some of the earliest spring bloomers. They have a very distinct pale yellow and extended "nose" that makes them one-of-a-kind. These are also very easy to manage as rodents tend to leave their bulbs alone.
---
14.

Dahlia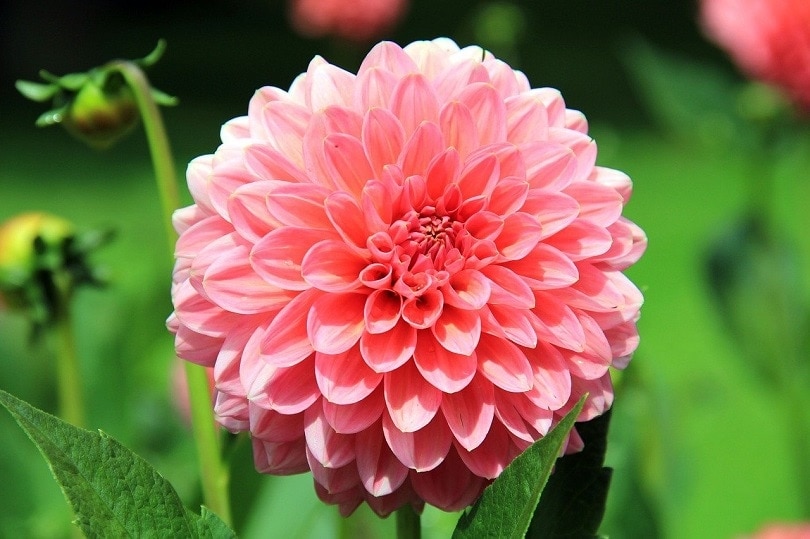 | | |
| --- | --- |
| When in Bloom: | Mid-summer |
If you're looking for the diva of the plant world, it's the dahlia. They're vibrant, stylish, and lush. Dahlias come in just about any shade you can imagine ranging from deep, dark burgundies to bright whites. Just be sure to plant them in a very open and sunny place.
---
15.

Daisy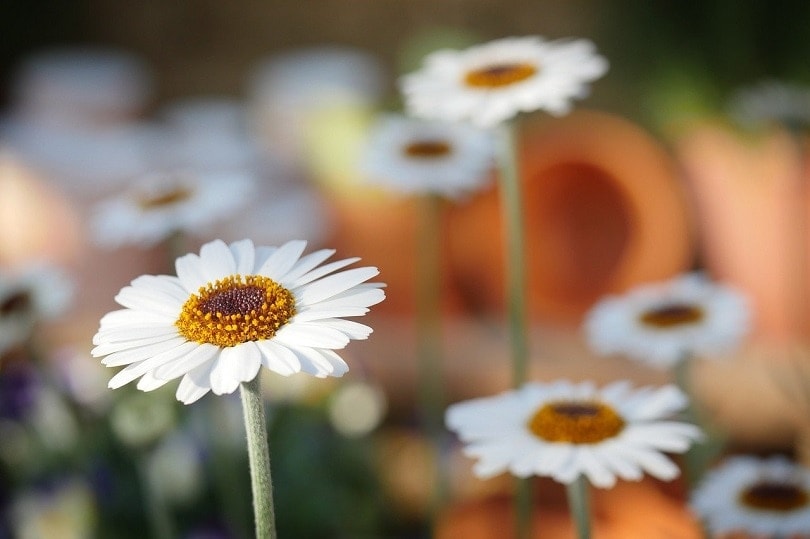 | | |
| --- | --- |
| When in Bloom: | Mid-summer to early autumn |
These summertime flowers are among the most recognized flowers you'll find. And that's because they grow natively on every single continent except for Antarctica! However, in the US, these white and yellow flowers are super simple to grow and only require watering in the summer if the average rainfall is less than 1 inch.
---
16.

Daylily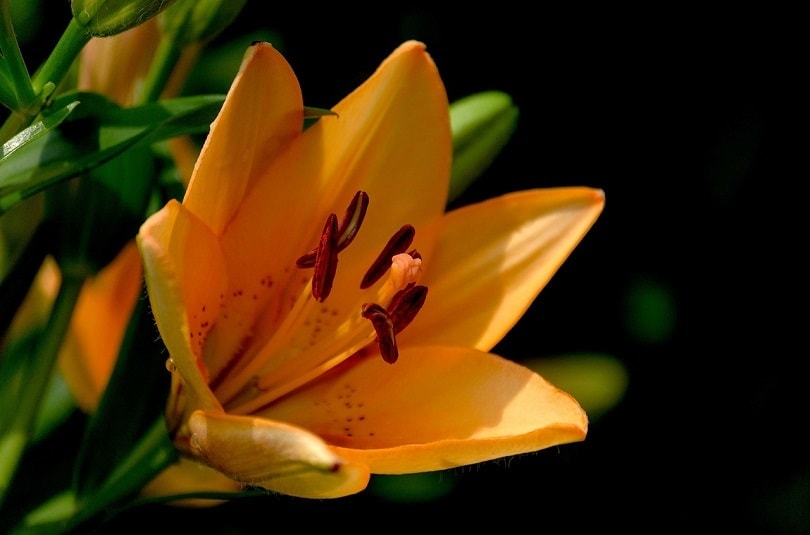 | | |
| --- | --- |
| When in Bloom: | Mid-summer |
Daylilies are some of the most stunning and distinctive flowers to grow in the United States. And thankfully, they are some of the easiest to grow! Even those having extreme difficulties growing flowers can have luck with daylilies. They are very tough flowers that hold up well.
---
17.

Fan Flower
| | |
| --- | --- |
| When in Bloom: | Spring to hard freeze |
If you're looking for flowers that require little to no attention to bloom, fan flowers are probably your best bet. They'll overperform through just about any situation. It takes a real hard frost to
throw these flowers off. Normally, you'll find these hanging off a windowsill or a window box planter.
---
18.

Forsythia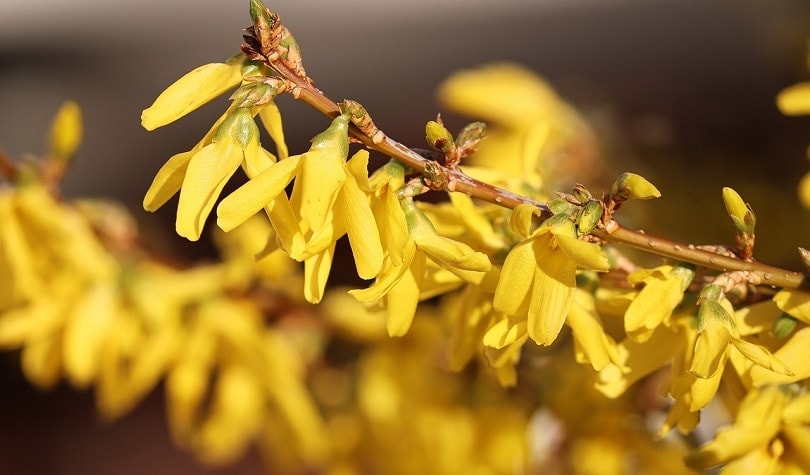 | | |
| --- | --- |
| When in Bloom: | Early spring |
These are probably some of the most unique flowers that bloom in the United States. And that's because they don't bloom on a fresh stem. In fact, they bloom on old wood! These flowers are among the only blooms to produce before the rest of their foliage. You'll find these odd flowers blooming during the early spring.
---
19.

Gardenia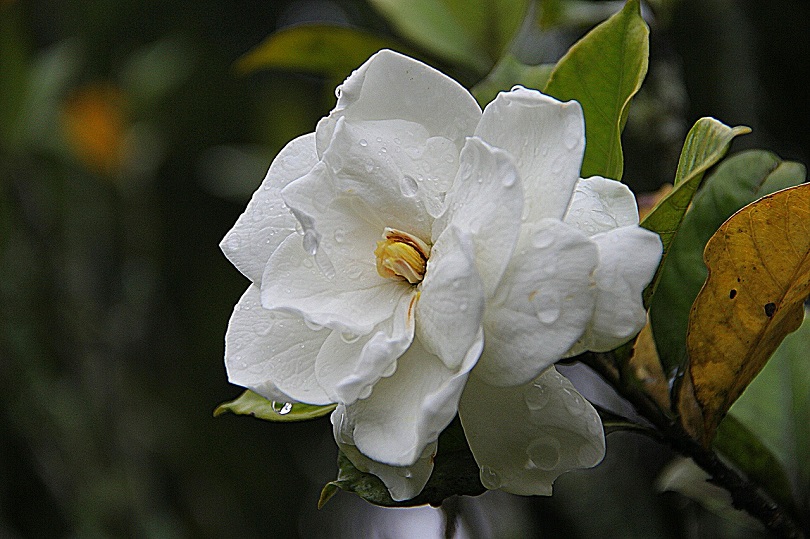 | | |
| --- | --- |
| When in Bloom: | Spring to summer |
These waxy flowers are very temperamental and aren't typically found in the continental United States. However, you'll find them growing natively in the state of Hawaii. These flowers thrive in tropical weather. But remember to look not touch. These all-white flowers bruise very easily.
---
20.

Hollyhock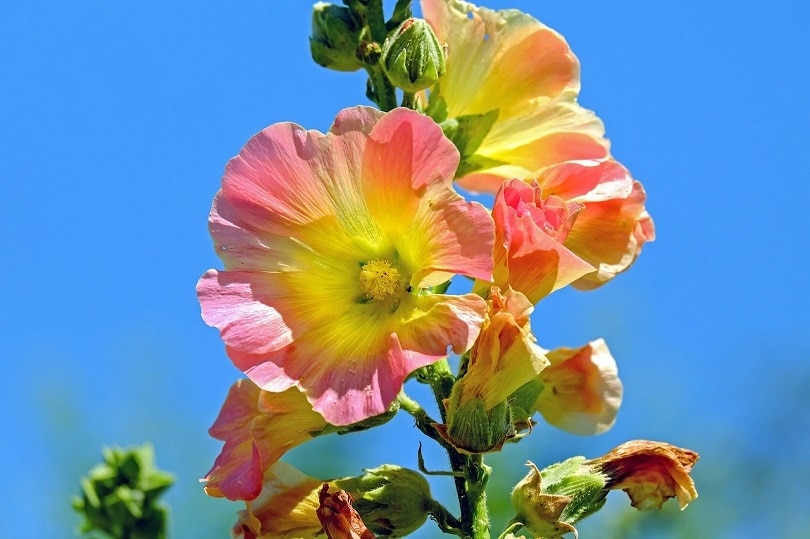 These iconic blooms are (or should be) a requirement for any quaint cottage setting. They grow vertically and up to 7 feet tall, so they'll make for an excellent backdrop for any garden. They only bloom during the summer; however, as they disappear, another giant takes their place—the sunflower.
---
21.

Hyacinth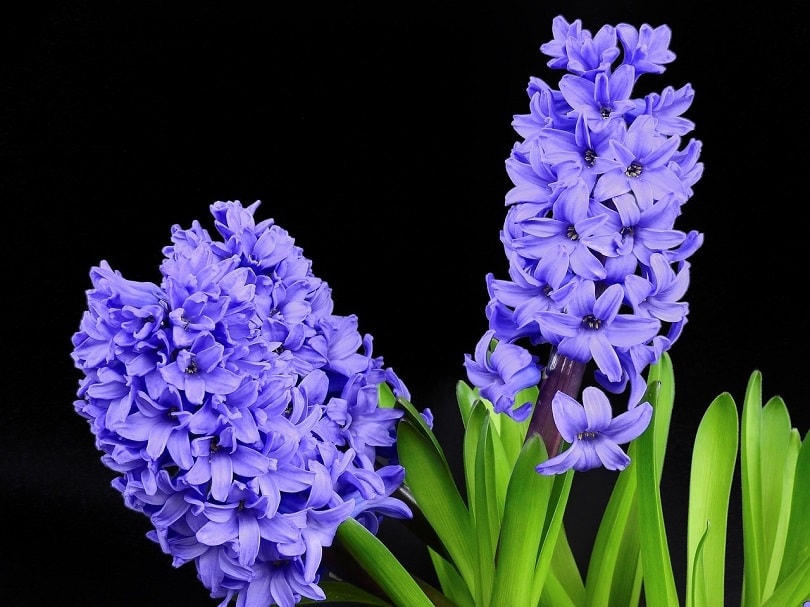 | | |
| --- | --- |
| When in Bloom: | Mid to late spring |
If you maintain a springtime garden, you need to have hyacinths. They have such a wonderfully sweet smell and bring some serious color contrast to the typical springtime flowers. Also, their bulbs aren't too attractive to rodents, making them much easier to keep and maintain.
---
22.

Hydrangea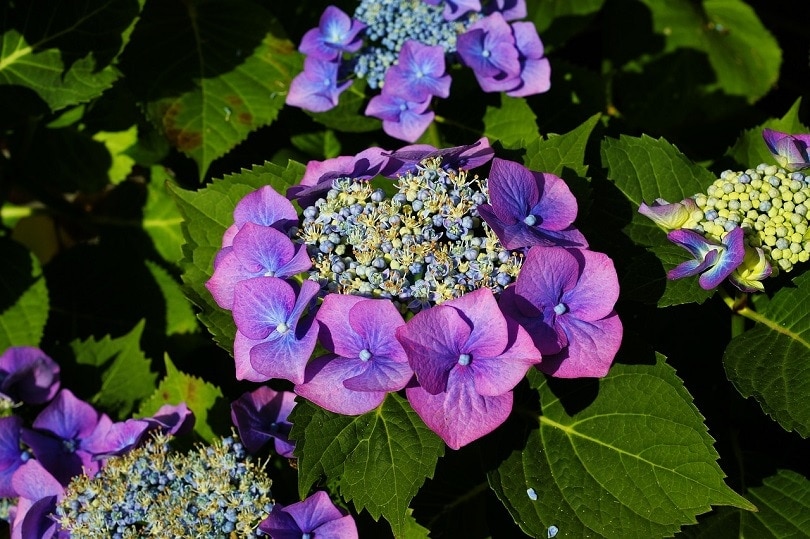 | | |
| --- | --- |
| When in Bloom: | Early summer to autumn |
If you are unsure about what kind of flower to plant, you can never go wrong with a hydrangea. In fact, there are so many different varieties that have their very own growing difficulty, there's bound to be one out there specifically for you. Some of them require little-to-no-effort while other varieties can be much more difficult.
---
23.

Impatiens
| | |
| --- | --- |
| When in Bloom: | Spring to autumn |
Don't have a lot of sun? Plant impatiens. These flowers love hanging out in dark corners and shaded areas. Not only that, but they're super reliable and will keep blooming until Jack Frost comes knocking.
---
24.

Iris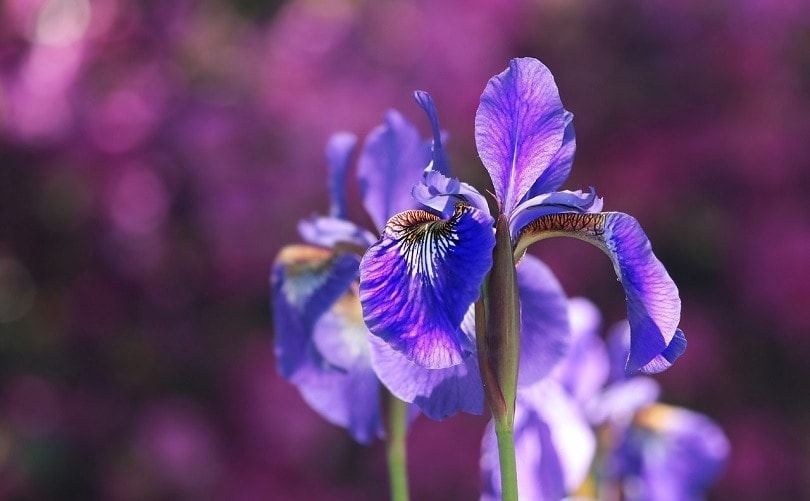 | | |
| --- | --- |
| When in Bloom: | Late spring to early summer |
There's something so uniquely special about irises. Maybe it's their bright, vibrant color. Or their almost tiger-striped petals. Either way, this flower is sure to make a valuable impression in any garden.
---
25.

Lavender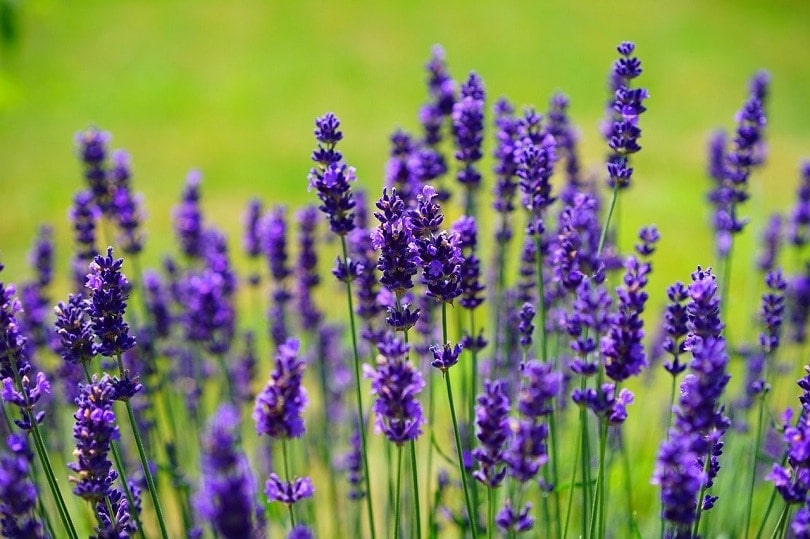 There's a reason that so many fragrances, perfumes, candles, and other smell-good scents are crafted with lavender. They produce an extremely strong, yet elegant smell sure to tantalize your smell buds. They look best when planted together in large fields for an unforgettable ocean of delicate purple flowers.
---
26.

Lilac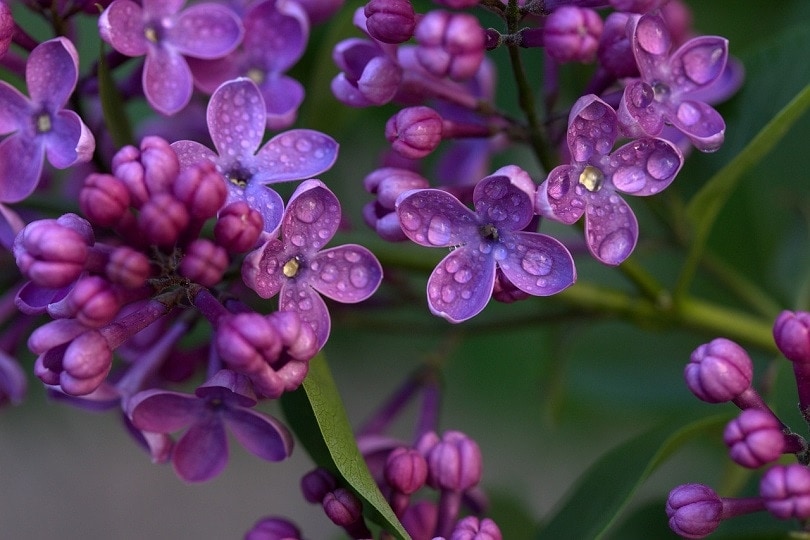 | | |
| --- | --- |
| When in Bloom: | Late spring |
Lilac is somewhat of a more old-fashioned lavender. They have a similar color and produce a very lovely scent. While lavender has a more elegant, masculine scent, lilac has a very sweet fragrance. The best part about them though is that they are super hardy and will last generations with very little effort.
---
27.

Lily of the Valley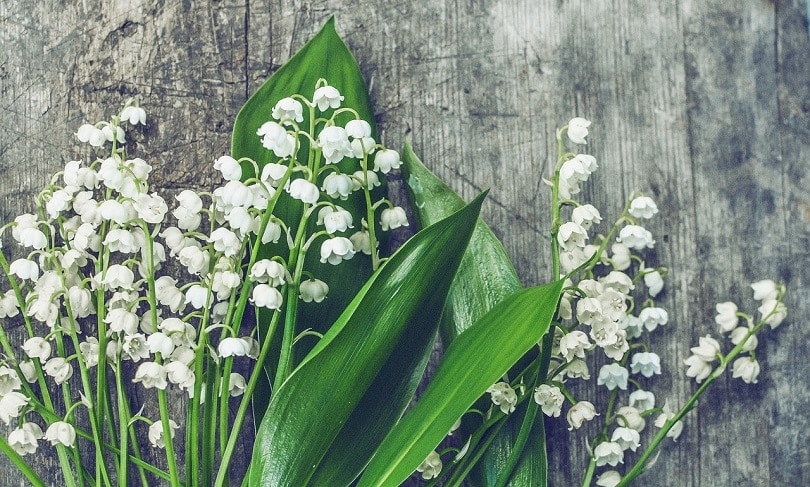 | | |
| --- | --- |
| When in Bloom: | Late spring |
These bell-shaped perennials make for wonderful ground cover—particularly in shady areas. However, you'll need to be careful. They grow and spread so fast. You'll need to keep them under control unless you want it to truly take over.
---
28.

Marigold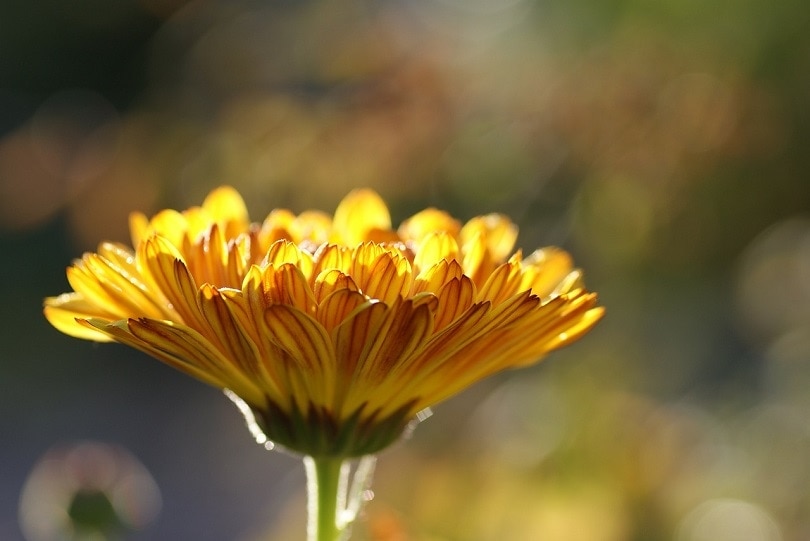 | | |
| --- | --- |
| When in Bloom: | Spring to autumn |
These bright and vibrant flowers are anything but delicate. They bloom from spring to fall and are resistant to pests, diseases, rodents, and even light frosts. But best of all — they are just absolutely gorgeous to look at!
---
29.

Nasturtium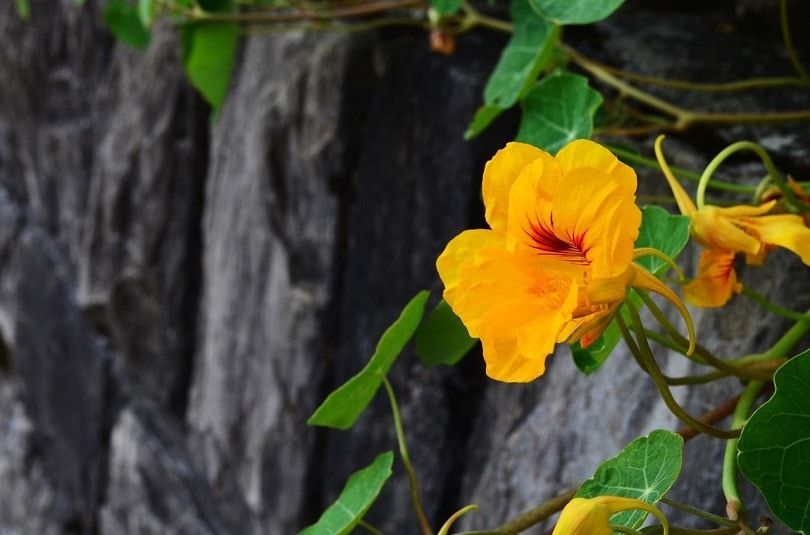 The nasturtium is a cheery flower that is related to the pansy. They tend to stick to the warmer end of the color wheel and come in colors such as red, orange, yellow, salmon, and pink. They are often used in cake decoration as the flowers are edible.
---
30.

Pansy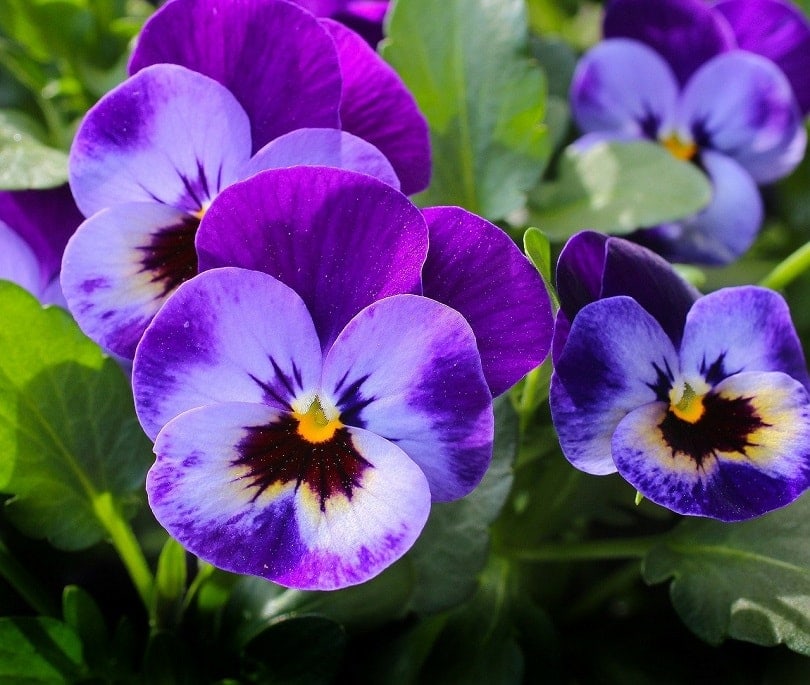 | | |
| --- | --- |
| When in Bloom: | Early spring |
Although their name can be used as a derogatory insult, the pansy is actually one of the toughest flowers around. These annuals are re-seeders, which means you'll only need to plant them once, and they'll take care of the rest. You can also find these flowers on the dinner table. Since they're edible, it's not uncommon to find them garnishing salads or pastries.
---
31.

Peony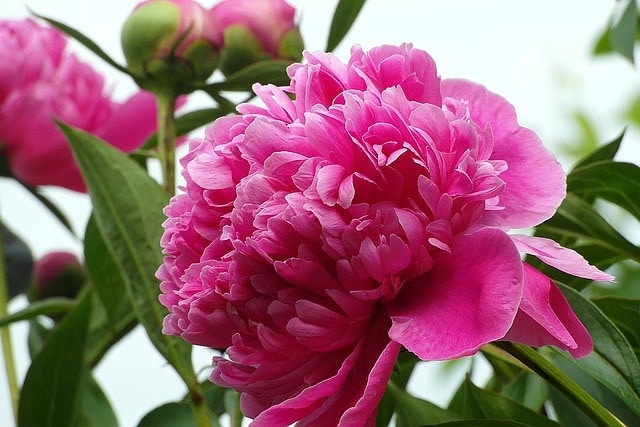 | | |
| --- | --- |
| When in Bloom: | Late spring to early summer |
Peonies are the definition of flower extravagance. They have very big blooms with a beautiful scent and look. But they're also survivors. Plant peonies and they'll survive for decades on end blooming every early summer.
---
32.

Petunia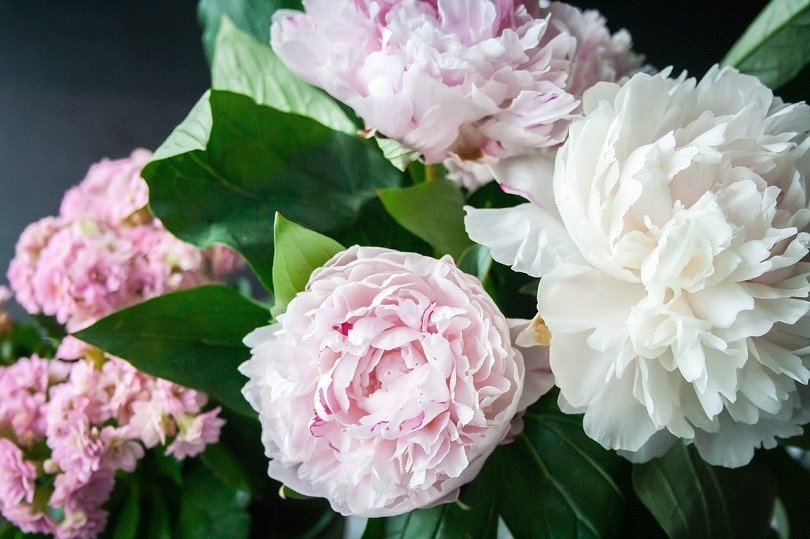 | | |
| --- | --- |
| When in Bloom: | Spring to the first frost |
These stout little flowers are very sturdy, yet beautiful at the same time. They are also among the versatile of all flowers. They make for a great addition to bouquets and baskets, window adornment, and even widespread ground cover.
---
33.

Poppy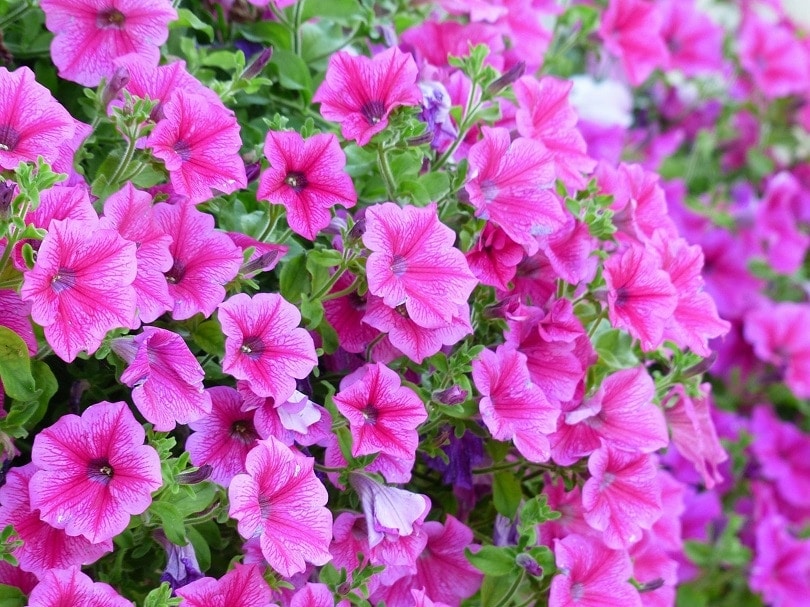 | | |
| --- | --- |
| When in Bloom: | Late spring to early summer |
Poppies are a very simple annual that needs little attention. They self-sow their seeds, so there's no need to replant year over year. They typically come in warmer colors such as reds, golds, and salmon.
---
34.

Rhododendron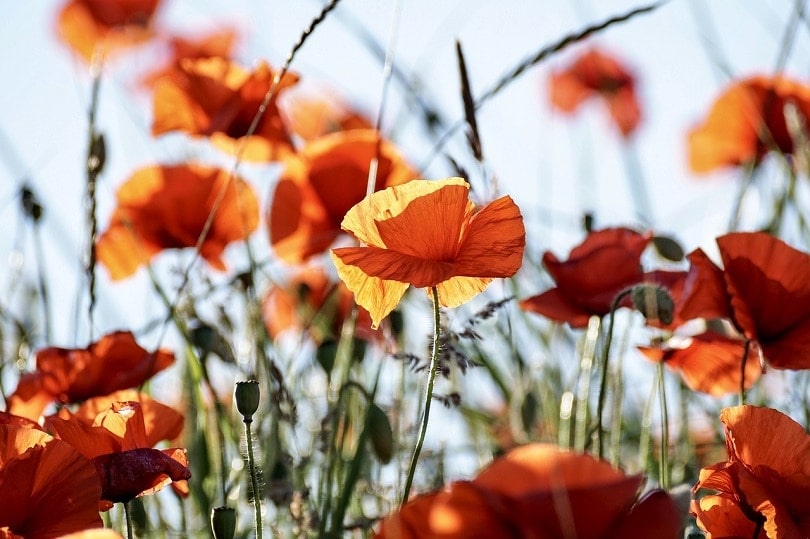 Rhododendrons grow shrub-bloomers that come in a stunning array of colors having pinkish-red petals or whitish-purple petals with big, glossy green leaves. Rhododendrons are also super convenient because they are evergreen and make for an excellent foundation.
---
35.

Rose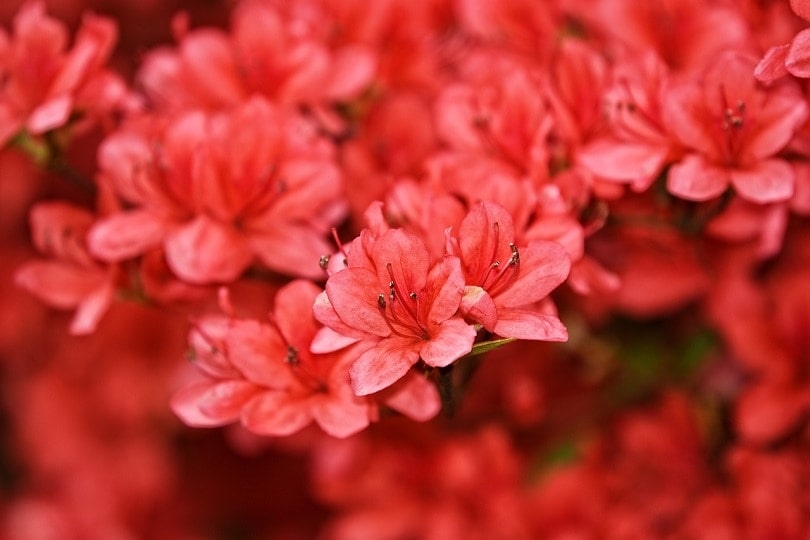 | | |
| --- | --- |
| When in Bloom: | Spring to hard freeze |
Roses are easily the most iconic flower in the world. They're known as the symbol of love and affection selling almost 250 million on Valentine's Day every year! They also get a bad rap for being finicky to grow and nurture. However, that's not really the case. Roses are becoming more disease-resistant as time passes and can withstand quick frosts.
---
36.

Salvia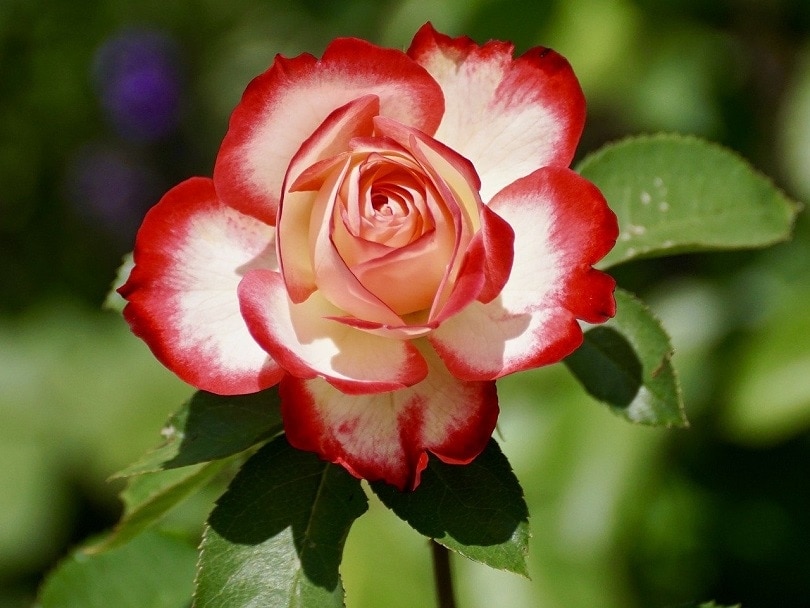 | | |
| --- | --- |
| When in Bloom: | Late spring to late summer |
Salvia is one of the most common types of flowers you'll find in household gardens. That's because they don't even need to be flowering to look great! But when in bloom, these perennials attract pollinators such as hummingbirds and bumblebees with their spikey flowers.
---
37.

Snapdragon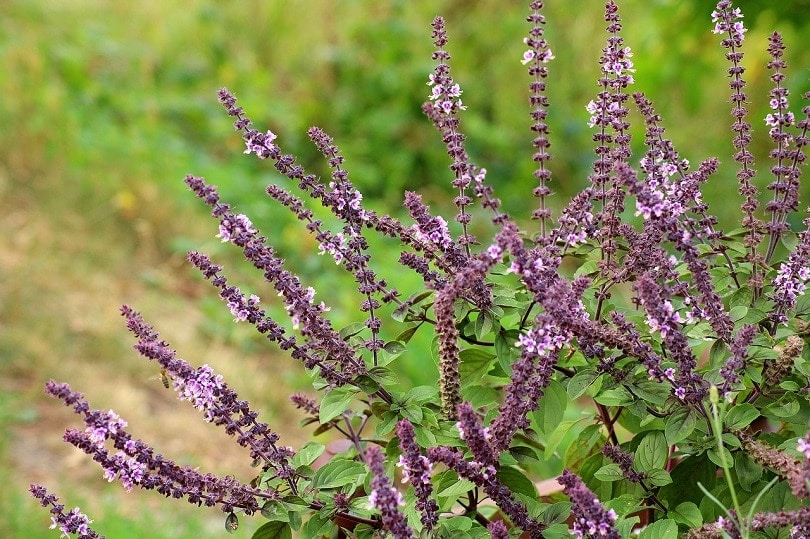 | | |
| --- | --- |
| When in Bloom: | Spring to hard freeze |
Most flowers will die off in the event of a cold snap or frost. However, the snapdragon is a different story. In fact, they can last all the way until a hard freeze comes around. Since they are so cold-resistant, you can actually plant these much earlier in the spring than most other annuals.
---
38.

Sweet Pea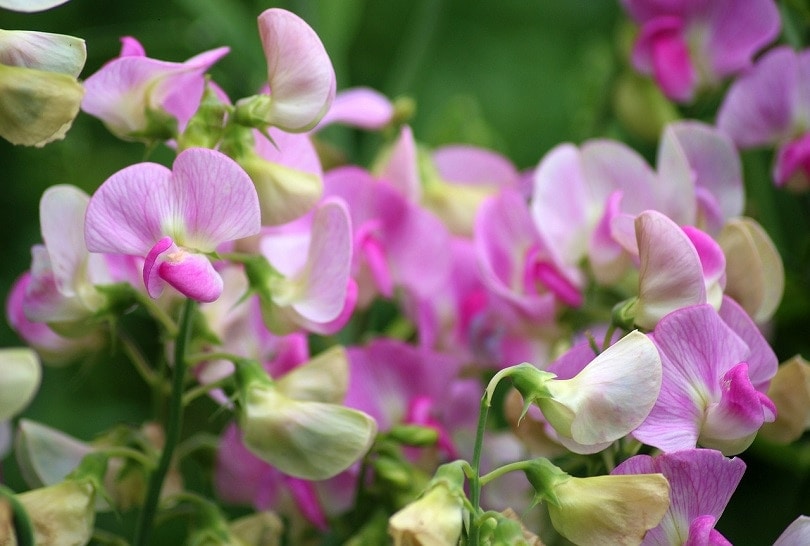 While the snapdragon is one of the toughest flowers around, the sweet pea is the exact opposite. They are extremely delicate and prefer a cool, moderate climate. While they can free stand, it's best to give them a trellis to climb for added support and stability as they can grow to be quite long.
---
39.

Sunflower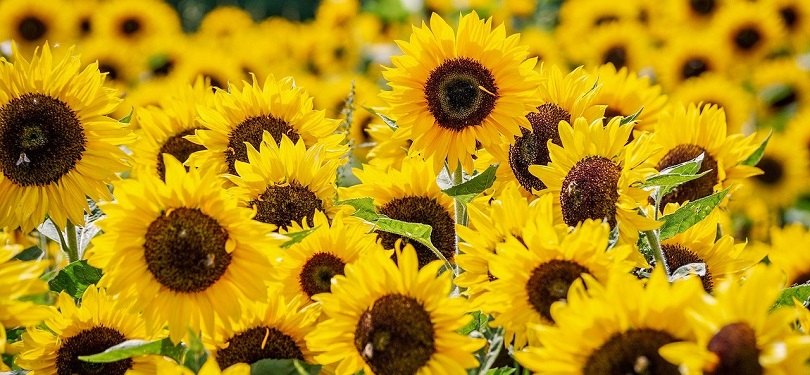 | | |
| --- | --- |
| When in Bloom: | Late summer to early autumn |
Sunflowers are another iconic flower, and they're sure hard to miss. Some varieties of sunflower can grow up to 14 feet tall! Others, however, come in a much more manageable size. Either way,
you'll be hard-pressed to find any American fall festival without these iconic blooms making their presence known.
---
40.

Tulip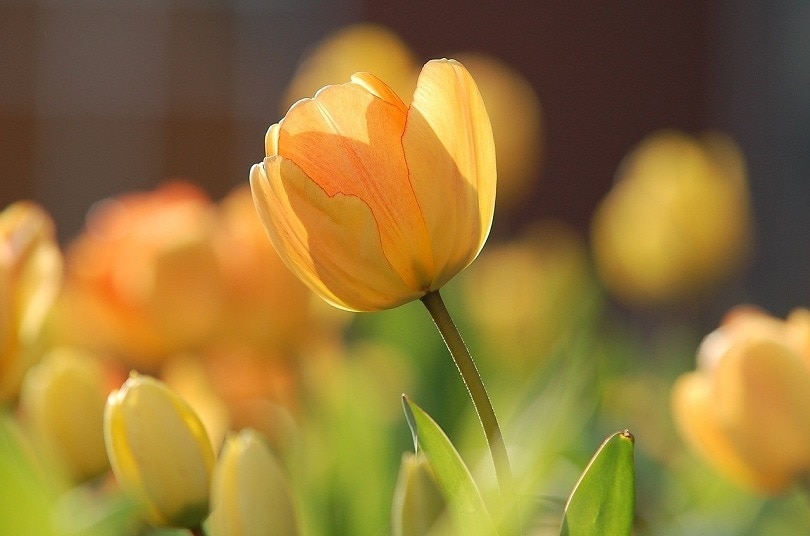 Tulips are the quintessential springtime flower. And while they look great around your garden or Easter table, these flowers do require some serious work to look their best. And subsequent blooms are twice as finicky. It's often best to just replant new bulbs every fall.
---
41.

Verbena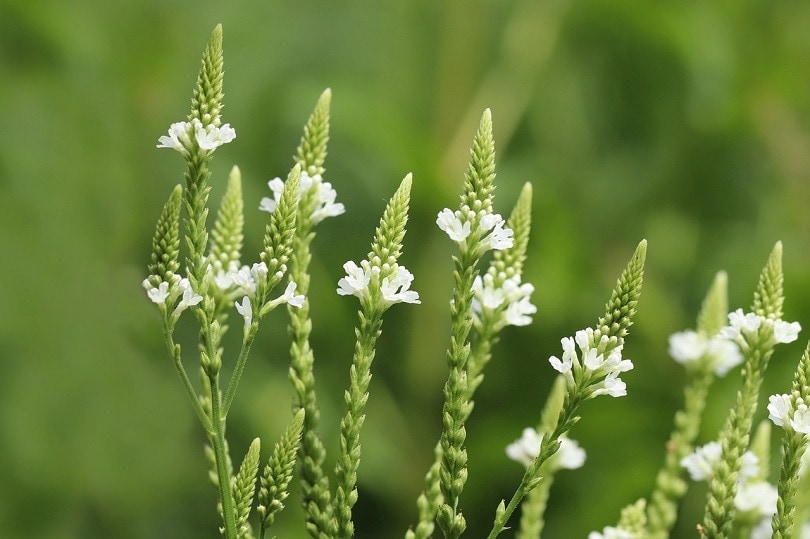 | | |
| --- | --- |
| When in Bloom: | Spring to autumn |
Verbenas are a tall, narrow flowering plant with tiny pom-like flowers at the top of their stems. They're rather sturdy blooms as they can last from spring to autumn. While some varieties of verbena are great when used as ground cover, they truly shine as accents within floral arrangements.
---
42.

Yarrow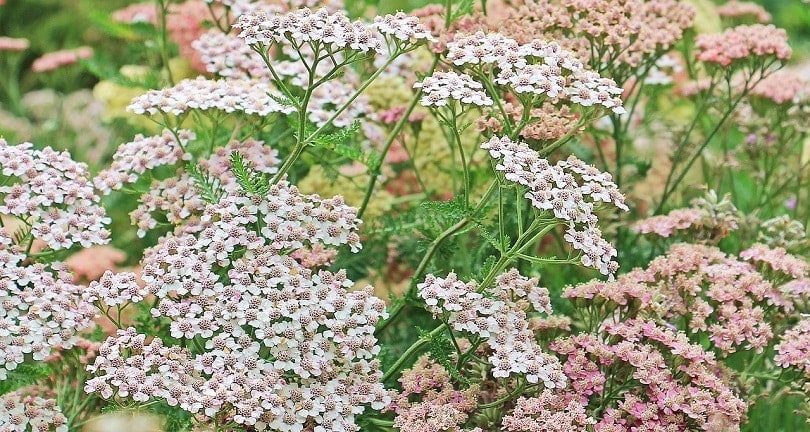 Yarrow is a tall perennial that has tiny flowers on weed-like stems. Despite their scrawny appearance, they are actually quite hardy. They are drought-tolerant and are avoided by deer and other animals that tend to munch down on flowering plants.
---
43.

Zinnia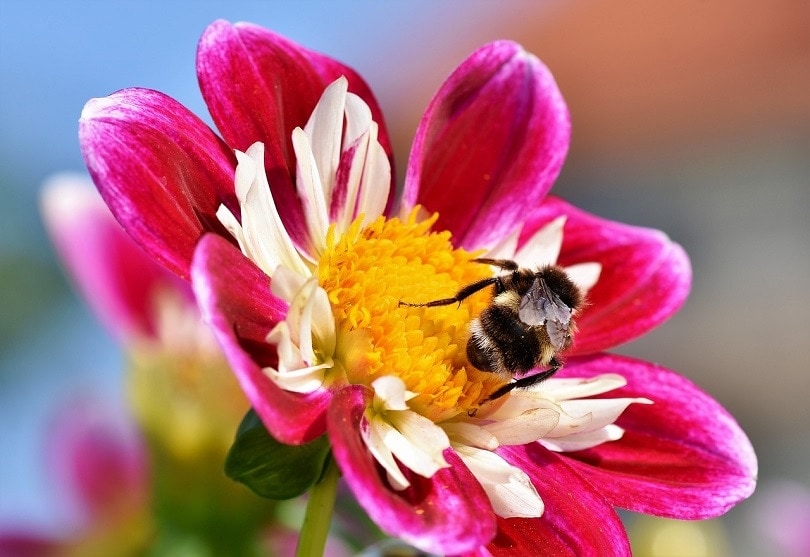 If all else fails and you don't know what to choose, plant zinnias. They're a pretty generic looking flower, but that doesn't mean they're not beautiful. They come in all sorts of fun, bright colors that will liven up any space. Plus, they're absolutely adored by pollinators. So, if you're looking to attract hummingbirds, this might be one of your best bets.
---
Featured image credit: pixel2013, Pixabay