8 Best Track Saws – Reviews, Top Picks & Buyer's Guide for 2023
A track saw is similar to a circular saw except that it can be mounted to a rail or track. The straight edge of the track enables you to easily and accurately cut a straight line in wood panels, doors, and sheets of MDF (medium-density fiberboard). Track saws tend to be more powerful than circular saws and are equipped to handle more challenging tasks. As a result, they are more expensive than circular saws. In this guide, we have highlighted some of the key aspects to look for when buying these powerful machines, as well as listing and giving 8 track saw reviews of the best on the market today.
---
Quick Summary of our Favorites in 2023:
Rating
Image
Product
Details

Best Overall

Makita 6-1/2″ Track Saw Kit

Powerful 12A motor
Variable speed settings
Comfortable rubber handle
CHECK PRICE

Festool TS 55 REQ Circular Track Saw

Splinter-free cuts
Spring-loaded blades
55″ guard rail for long cuts
CHECK PRICE

Best Value

SHOP FOX W1835 Track Saw

Cheaper
Dust port
5
500 RPM
CHECK PRICE

DEWALT 6-1/2-Inch Track Saw Kit

Smooth glide
Dual-sided cuts
Anti-kickback guard
CHECK PRICE

Festool TS 75 EQ Plunge Cut Track Saw

Excellent quality
Anti-kickback
Powerful 13A motor
CHECK PRICE
The 8 Best Track Saws:
1.

Makita 6-1/2″ Track Saw Kit – Best Overall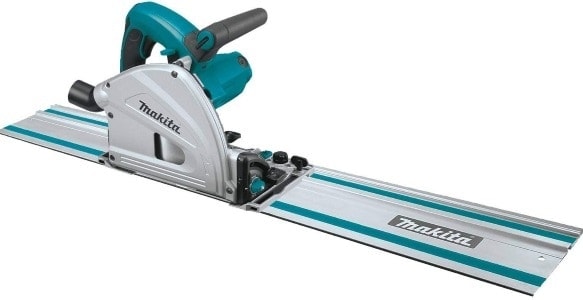 The Makita SP6000J1 is powerful and well designed. It offers best-in-class performance thanks to a 12-amp motor that breezes through hardwood, flooring, and virtually any other material. It incorporates electronic speed control, ensuring that the blade cuts at a constant speed even when under pressure and cutting through thicker and tougher sections. The variable speed dial offers settings between 2,000 and 2,500 RPM so that you can choose the cutting power to match the application and the material that you're cutting.
The Makita brand is well known and widely respected as one of the best on the market, and this magnesium bodied track saw has an optional anodized aluminum rail guide system designed to be hardwearing and durable but convenient enough to easily adjust. Additional features include a 3mm scoring setting to allow for the precision sawing of guidelines and shallow tracks, and a bevel setting with 22.5- and 45-degree presets, as well as the option to bevel cuts between -1 and 48 degrees.
The 6½-inch track saw from Makita also has a rubberized handle which is grippy but still comfortable enough for regular and ongoing use.
To conclude, we think that this is the best track saw this year.
Pros
Powerful 12A motor
Variable speed settings
Comfortable rubber handle
---
2.

Festool TS 55 REQ Circular Track Saw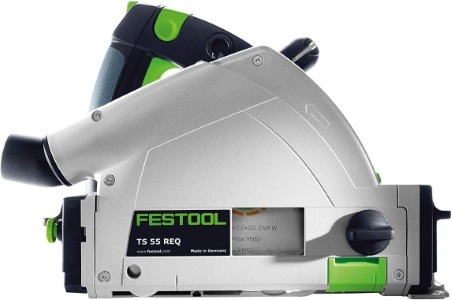 The Festool TS 55 is the smaller sibling of the TS 75. It boasts a blade configuration that prevents kickback, enhancing safety even during the most difficult cuts. It manages this by spring loading the blades which prevent them from pinching against the material as you saw. It has a 55-inch guard rail that enables you to cut up to 49 inches, and the rail works with a host of other Festool products including the circular saw.
However, this expensive model is definitely priced for the professional despite the fact that it won't cut as deep as the TS 75. It is also less powerful than its bigger brother, so while it is too much for the casual user, it might not offer the power and cut required by professionals. Despite these problems, there is no doubt that it is a really good quality track saw. If you are already invested in the Festool brand, with a workshop full of other Festool tools, the rail compatibility makes this a solid option.
Pros
Spring-loaded blades prevent kickback
55″ guard rail for long cuts
Guard rail is compatible with other Festool products
Cons
Expensive
Not as powerful as the TS 75
Too much for the home user
No clamps included
---
3.

SHOP FOX W1835 Track Saw – Best Value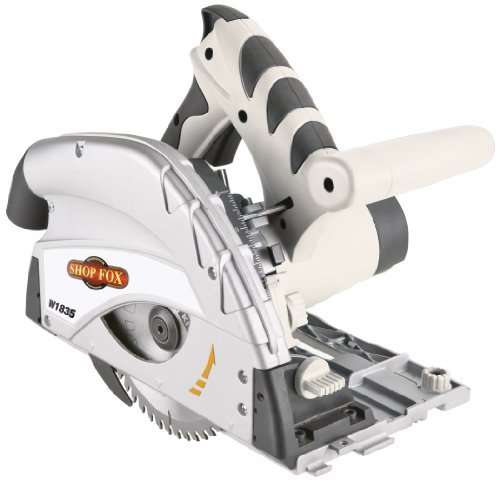 The SHOP FOX W1835 is the best track saw for the money, offering a modest amount of power at a really attractive price. It has a 9-amp, 120-volt motor and while this isn't as powerful as models like the 12-amp Makita, it means that the SHOP FOX is not only more affordable but also a lightweight alternative to some of the heavier models. It also uses the available power efficiently, providing a maximum speed of 5,500 RPM with no load while its 11-pound weight means that it is easy to heft around.
It can cut at angles of 45 and 90 degrees. It also has a dust port so you can plug in a workshop dust collection system, eliminating the mess and preventing you from having to clear up piles of sawdust after every job. This is also another model that has an anti-kickback feature to prevent injury and to give you confidence every time you pick it up.
Pros
Cheaper than most other models
Dust port for cleaner working
Still manages 5,500 RPM
---
4.

DEWALT 6-1/2-Inch Track Saw Kit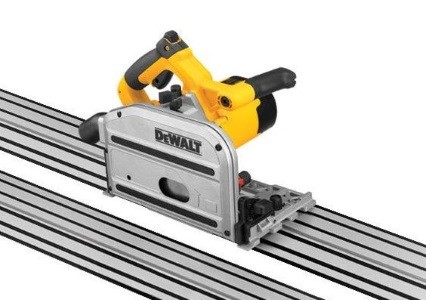 It doesn't get more brand-name than DeWalt. Its 6½-inch track saw is another addition to the company's premium range of highly respected power tools. It has a 12-amp, 1,300-watt motor that delivers up to 4,000 RPM. It has a low-profile blade guard that enables you to make cuts right up to the border and in tight spaces.
It can saw up to 2⅛ inches deep at a 90-degree angle and 1⅝ inches deep at 45 degrees. There's even a depth scale that allows you to closely monitor your cuts and ensure that everything remains even. The rail can be used on either side of the blade so you can easily cut both sides of your material without having to move everything around.
Four glide strips ensure that the saw glides easily as you use it. While the 6½-inch track saw is a premium model and the body of the kit has a well-made and durable feel to it, some of the plastic components and accessories do not have the same strength and could break.
Pros
Powerful 12A motor
Glide strips ensure a smooth glide
Anti-kickback guard
Dual-sided cuts
---
5.

Festool TS 75 EQ Plunge Cut Track Saw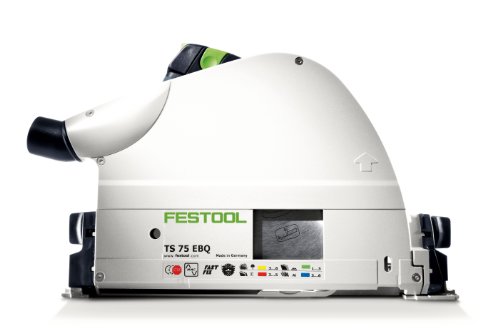 The Festool TS 75 is the big brother of the excellent TS 55 with a longer track and with an 8¼-inch cutting blade that enables you to make 2¼-inch deep cuts. The 13-amp motor offers variable speed settings between 1,350 and 3,550 RPM and has a soft start feature. The soft-start feature means that the saw eases into the material and provides an accurate cut every time. This model also includes spring-loaded blades, which protect you from kickbacks.
It weighs 13 pounds, and like other Festool tools, it is highly rated for its build quality, strength, and durability. Unfortunately, it is the most expensive track saw on the list, and it might be suitable for heavy-duty and professional use, but unnecessary for the home enthusiast or DIYer.
Pros
Excellent quality
Powerful 13A motor
Anti-kickback
Cons
Expensive
More than the average user needs
---
6.

Bosch GKT13-225L Track Saw
The GKT13-225L track saw from Bosch has a powerful 13-amp motor that provides up to 6,250 RPM. The saw has been designed for use with or without a track, which might explain why there is no track included. However, the saw does offer bevel cutting from -1 to 45 degrees and a depth gauge pointer which means that you can cut straight or beveled edges with great accuracy.
One of the premium features of the Bosch is that it will cut at the desired speed through any thickness and depth of material. A lot of other models will slow down when they reach a thick section and the blades have to work harder to tear through, but this isn't the case with the Bosch. You can vary the speed between 3,200 and 6,250 RPM and whatever setting you choose is what you get.
Pros
Vacuum hose port
Blade works both ways
Constant speed even through hardwood
Cons
Very pricey
No guide rail included
---
7.

Triton 6-1/2-Inch Plunge Track Saw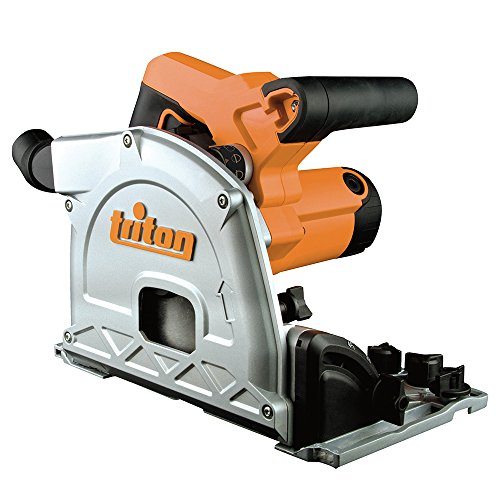 The Triton TTS1400 is an affordable but relatively basic saw that will handle small jobs well. The handles are made to be ergonomic, while the dust port will do a good job of handling messes, and ensuring the safety of your shop area. It also has an anti-kickback mode that can help mitigate the risk of injury.
These things said, if you work with heavy stock, this saw probably isn't going to be an option. With tougher materials, the cuts tend to get splintery and very rough.
The exterior material of the saw itself also leaves something to be desired. It feels very fragile and isn't likely to stand up well to wear and tear.
Pros
Affordable
Kickback protection
Dust port
Cons
Very fragile
Not very powerful
---
8.

Grizzly T10687 Track Saw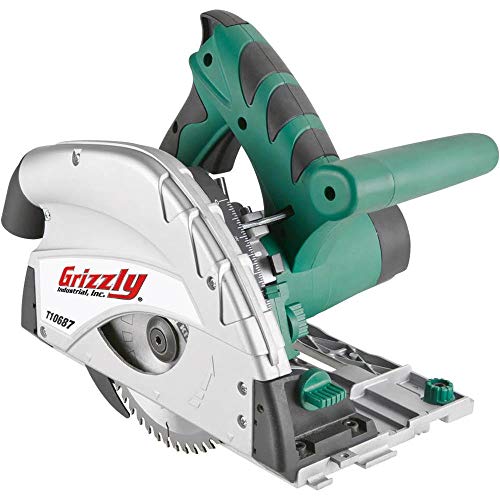 The Grizzly T10687 track saw is a cheap track saw that is less expensive than all the models in this list. Unfortunately, the price reduction comes with its own cost.
The Grizzly doesn't feel well made, with some of the buttons proving uncomfortable to use, and the angle of the safety release means that it will be very uncomfortable for prolonged one-handed use. Buyers have said that the cut quality is better than a circular saw but not as good as the quality of more expensive track saws.
The Grizzly has also saved money on the motor, which is only a 9-amp model so while it does offer speeds of up to 5,500 RPM the speed doesn't remain constant when cutting all materials. It will cut up to a depth of just over 2⅛ inches at absolutely any interval, so you can cut several pieces at once if you wish
Cons
Uncomfortable to use
Some poor-quality cuts
Feels cheap
---
Buyer's Guide – Choosing the Best Track Saw
Below, we will take a look at some buying considerations that will help you find the best track saw for your workshop:
Variable Speed Trigger
Most high-end saws will include a variable speed component. This allows you to customize the approach that you take to each job. The wider the range is, the more versatile the saw will be. In general, higher speeds are good for making a flush cut on hardwoods, while slower speeds can be beneficial to softer, more delicate woods.
Without this feature, you'll be limited in the type of work you can accomplish.
Power
You can never have too much power. A strong motor will be able to work with lots of different types of materials. An underpowered saw will produce splintering and frayed ugly edges when it is pushed to its limits. Hardwoods can even overload the motor, breaking a tool altogether.
The more power you have on hand, the less likely problems of that nature are to occur. How much power is needed depends largely on the user. If you're working with lots of tough material, you'll want as much power as you can get. Something in the 12-amp range should be to your liking.
If you're working with softer, easier materials, you can get away with a little less.
What's in the Box
It's also handy to know what the saw you're buying includes. Is it just the tool? Or are you getting blades, a case, or a guide rail? The more the tool comes with, the easier a time you'll have getting started.
At the very least, you'll want something that comes with a blade or two. This is a part of the tool that you'll need to replace from time to time, but the inclusion of blades will save you some money, and help to avoid a headache the day that you get the saw.
Guide Rail Length
The length of the guide rail will affect the type of work you're able to do. The longer the guard rail, the longer the cuts you will be able to make.
You can often purchase guardrail extensions if you need more space, but it can be difficult to find compatible products. It's also just pricier. Most of the time, it will be more economical to buy one long guide rail than it would be to purchase several shorter options.
Kickback Protection
Many saws suffer from kickback. It's a dangerous hazard that can lead to a major injury. Fortunately, companies now prioritize mitigating the risk of it.
Some of the best track saws on our list protect against kickback via a variety of methods. Some have special blade guards. Others configure the blades in ways that reduce the likelihood of the type of friction that can lead to kickback.
Guide Rail Compatibility
Some of the saws on our list have guide rails that are compatible with other tools as well. This is a handy feature to have if you like to buy from the same company a lot. For instance, the Festool guide rail is able to work with circular saws and other tools from the company.
It's a modest benefit, but also a nice thing to have for some buyers.
DEWALT Track Saw Track, 59-Inch (DWS5022)
For perfectly straight cuts in both directions
track saw dual-edged tracks for perfectly straight cuts in both directions
Zero clearance track saw cutting system delivers precise, straight, splinter-free cuts
Dust Port
Some form of dust collection is a true must when working with high-powered saws. A dust port is critical because it lets you hook the tool up for a shop vac, allowing easy cleanup, and a lower risk of health concerns. Sawdust is a known cancer-causing agent, which makes it important to keep it in the vacuum and not in your lungs.
RELATED READING: what can you use a track saw for? A closer look at different uses
---
Final Verdict
With our track saw reviews over, the time to decide has arrived. Do you want something with raw power and lots of high-end features? If so, you could do a lot worse than the best track saw of this year, the Makita SP6000J1 6-1/2″ Plunge Circular Saw Kit.
Of course, there are also great choices out there for buyers on a budget. If you want to get something great without spending a ton of money, think about choosing our best track saw for the money pick, the Shop Fox W1835 Track Saw.