What Is The Best Wood For Countertops? (With Pictures)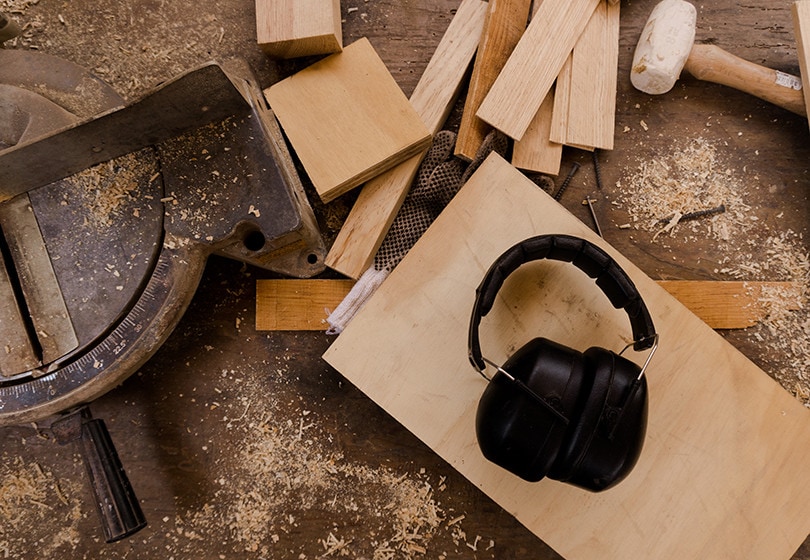 Anyone thinking about remodeling their kitchen has doubtlessly looked at their old, worn-out countertops and wondered which material would be a worthy replacement. As far as wood goes, there's no single best wood most suitable for countertops. The good news is that numerous types of wood can make beautiful, durable countertops.
Stone countertops have become very popular, but you shouldn't overlook what wood counters have to offer. From richly grained maple, gorgeously red cherry, enduringly classic oak, and more, there are plenty of choices for any type of kitchen aesthetic.
The 6 Best Types of Wood For Countertops
1.

Walnut
Often overlooked, walnuts have some of the greatest color variations in the wood world. Some walnut is a rich golden hue, while others are nearly indistinguishable from ebony. Regardless, walnut countertops can perfectly complement any type of kitchen. Use dark walnut for a more contemporary aesthetic or go classic walnut for a more quaint feel.
Unlike softer woods like pine and maple, walnut is very sturdy and will last a very long time if taken care of. Provided you don't cut directly on the counters, walnut will only require periodic oiling and resealing in spots that become worn or damaged.
---
2.

  Maple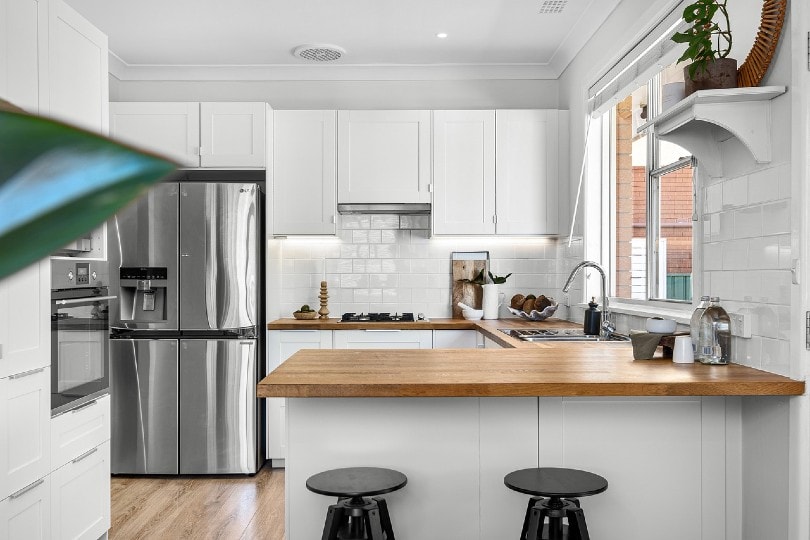 Maple is one of the most popular choices for wood counters, and it's not hard to see why: maple is an affordable wood that goes with virtually anything. The light, refreshing tones of maple shine through whether you choose curly maple slabs that show off knots or hard slabs with clear grain.
Maple is reasonably durable, especially considering its moderate pricing. It's not the toughest wood out there, but it'll last as long as any expensive wood if you treat it well. If you just need something affordable that won't take too much attention away from existing focal points, maple is just the wood for you.
---
3.

Cherry
Cherry is considered a high-end wood for any type of project, and counters are no exception. Per square foot, cherry is the most expensive type of wood for counters, but it's also one of the most durable. Cherry has an innate luster that makes it the focus of any room, so you may wish to have an island with a cherry counter while, say, maple makes up your main countertop space.
Whether you're using it liberally or sparingly, cherry will brighten up any kitchen. Unlike cheaper woods like pine, you don't have to worry about harming cherry and can expect it to last at least a decade or two.
---
4.

Hickory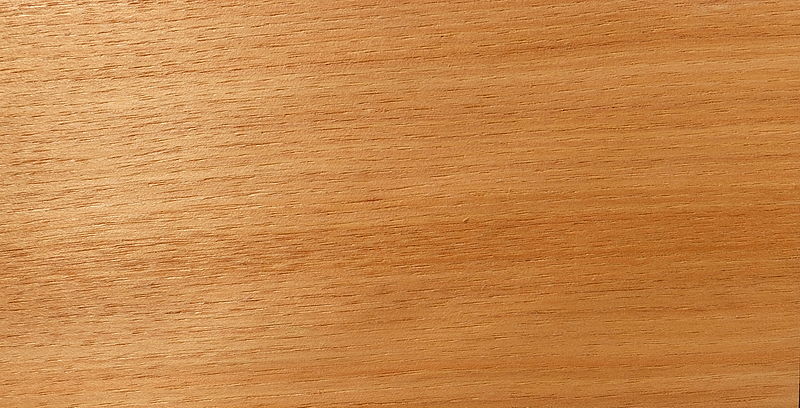 Hickory is the single hardest domestic hardwood in North America, which earns it a spot on this list. Lighter sapwood hickory has an appearance similar to maple, while darker heartwood or aged hickory has a very dark, rustic feel perfect for a farmhouse kitchen. If your kitchen sees a lot of hard use, you should definitely consider going with hickory counters.
What else can we say? Hickory is extremely hard, not prone to water damage, and resists scratches and gouges better than any other wood out there. If supreme durability is what you're looking for in a countertop surface, start looking into hickory.
---
5.

Oak
Oak is the second-hardest wood, behind hickory, and is a classic household staple known for its longevity. From richly dark red oak wood to lighter maple-esque white oak, not to mention aged oak, you have light and dark options that can fit any type of kitchen. Consider mixing and matching oaks, too, and having both white and red countertops for different parts of the kitchen.
Oak is a great match for a naturalistic kitchen with a lot of greens or blues, especially if you pair it with a moderately dark hardwood floor. Oak is typically warm, so you'll want to offset that with some cooler tones.
---
6.

Iroko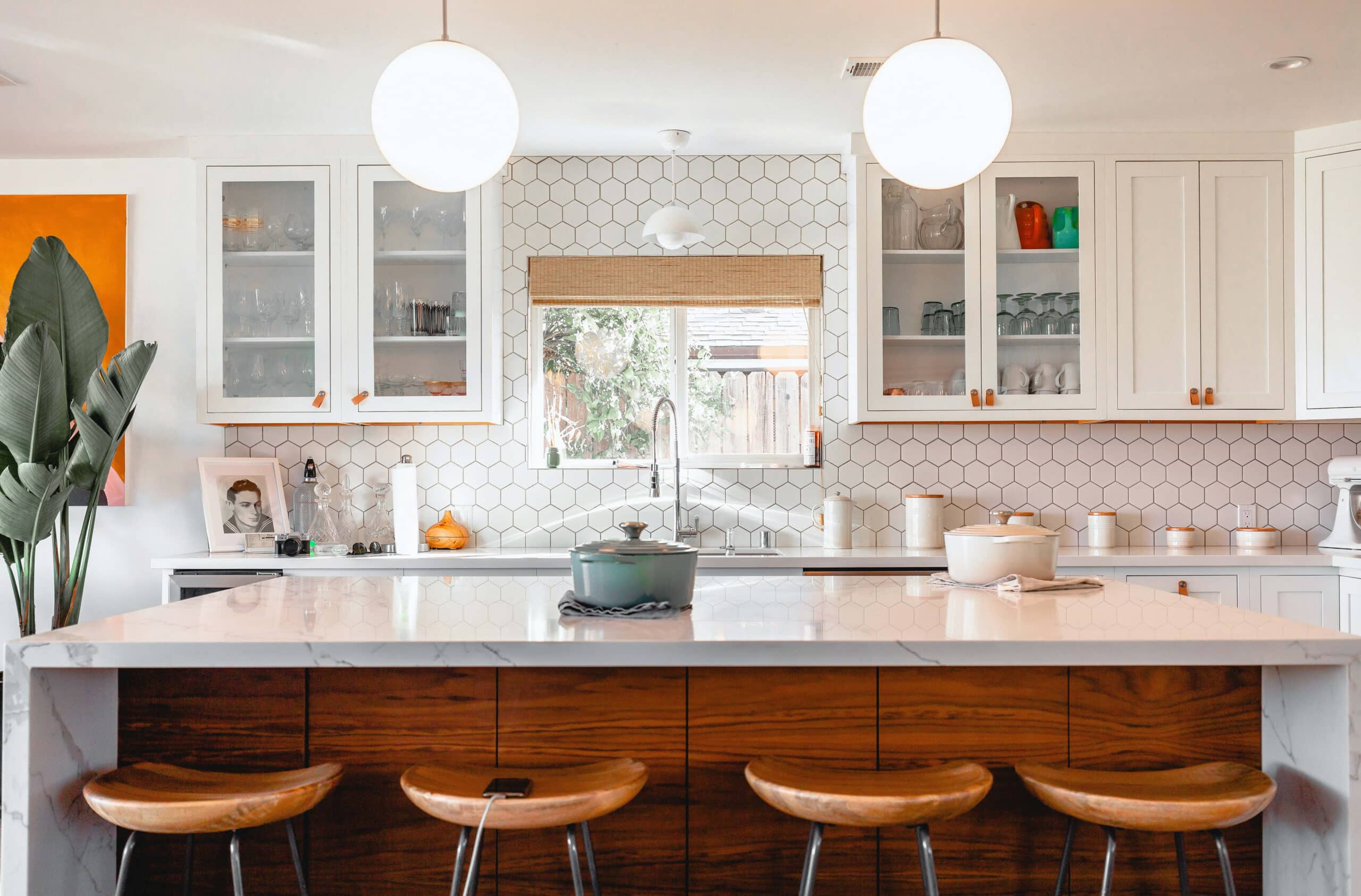 Iroko is an African import, so it comes at a higher price tag than other entries above. However, iroko is an incredibly unique wood that starts as a light golden color, then as it matures it turns into a dark bronze reminiscent of teak. To accelerate the transformation, regular oiling is required.
Iroko has a naturally high oil content, like teak. This makes it very water-resistant even before it's sealed. Iroko's claim to fame is its fascinating grain, which appears to interlock. Every piece of iroko timber has a unique grain pattern, which is part of the wood's appeal.

Stone vs. Wood For Countertops: Which Is Better?
While stone countertops will never die because of their durability, wood is a cost-effective and beautiful material in its own right. While neither wood nor stone is necessarily the best of all options, they each have pros and cons that are worth considering when you remodel your kitchen.
| | | | |
| --- | --- | --- | --- |
| Wood Pros | Wood Cons | Stone Pros | Stone Cons |
| Easy to install, can be DIY'd | Less heat-resistant than stone | Unmatched durability | Very heavy |
| Easily stained to change or accent the natural wood grain | Easy to mark, scratch, or gouge with knives | Heat-resistant | Difficult to install and requires a professional |
| Antibacterial | Light woods stain very easily | Can last 25+ years | Gets cold very easily |
Conclusion
There are so many different types of wood with varying properties that you're certain to find one that suits your kitchen and your vision for its future. From hardy hickory, rich cherry, and exotic iroko, a wooden countertop can be just the thing to instantly reinvigorate a dull, boring kitchen.
You might also be interested in: 11 Kitchen Backsplash Trends To Avoid
---
Featured Image Credit: Pexels