19 Outdoor Living Trends in 2023 – Design Ideas for a Modern Home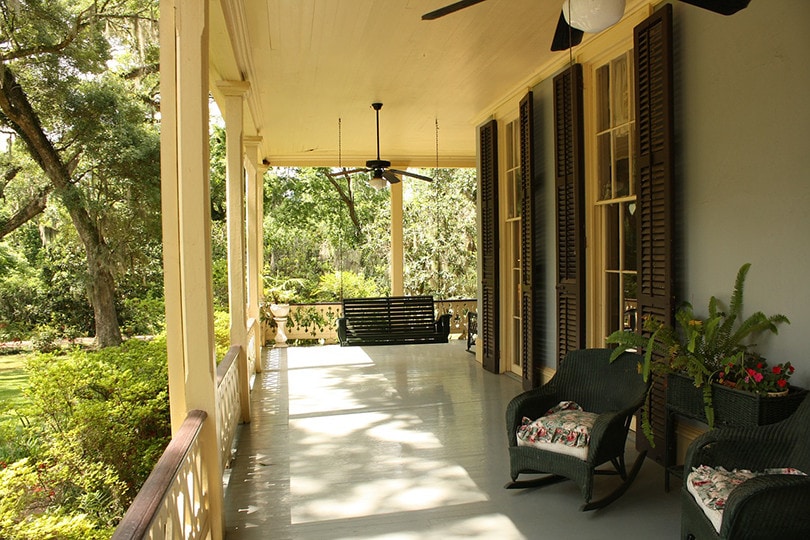 Another year is here, and new trends are with it. You don't always need a huge budget or a major overhaul to enjoy the latest trends. As you'll see in the list below, some trends are a significant backyard overhauls. But many of them are simple and functional changes that anyone can make.

The Top 19 Outdoor Living Trends in 2023
1.

Backyard Playgrounds
It wasn't that long ago that the only option for backyard play equipment was a rope swing in that big tree or maybe a steel swing set with hard plastic seats. Over the last few years, we've seen more complex play equipment coming out for the backyard. Now, there are options to have full-on playhouses with swings attached. Essentially, having an entire playground is now a reasonable option for many people.
---
2.

Indoor Spaces, Outside
We've been spending more time than usual at home over the last couple of years, and people have started to get creative with their outdoor spaces. Another trend that's booming this year is bringing indoor-feeling spaces outside. Think comfortable seating arrangements, privacy screens, and a covered area so it can be enjoyed in most weather.
---
3.

Driveway and Backyard Basketball Courts
Free-standing basketball hoops are nothing new. However, installing permanent hoops is becoming more popular for paved driveways. Also, pouring a half-court pad in a big backyard is becoming a thing. This trend gives people the ability to have fun and stay in shape from the comfort of their driveway or backyard.
---
4.

Front Porch Redesigns
Aside from a 'Welcome' mat, the front porch is usually ignored as a place to decorate, let alone relax in. Not anymore, people are finding creative ways to make the most out of their homes. This year, we are seeing people make this entry area of the house into a place to relax with new décor, bistro sets, and potted flowers.
---
5.

Hot Tub on the Deck
Another trend that's not necessarily new but seeing a renewed popularity due to people spending more time at home, is hot tubs. In some cases, it's as simple as putting the hot tub on an existing deck, plumbing it in, and having a party. Other times, people are building a new deck to enjoy a hot tub in their back yard.
---
6.

Backyard Cooking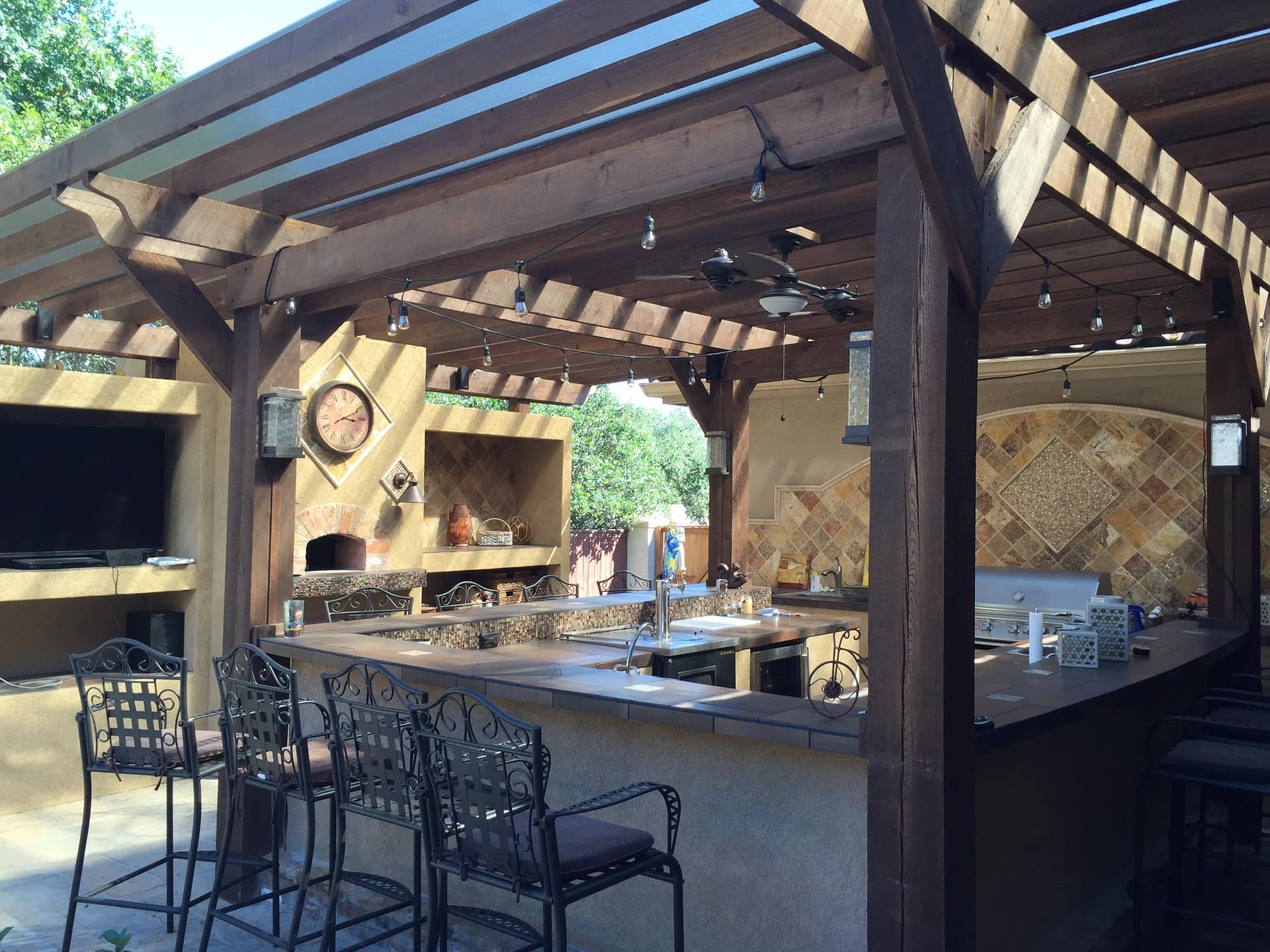 Once upon a time, having friends over for a BBQ meant standing around the grill, drinking a cold one, and sitting down on garden chairs (or maybe a picnic table). However, this isn't always the case anymore. Full-on backyard kitchens are rising in popularity. These kitchens still have BBQs, but they also have fridges and sinks with running water and often have a dedicated outdoor dining area.
---
7.

Concrete Furniture Replacing Regular Furniture
An interesting, growing trend is concrete furniture. There are some fantastic designs available, and due to concrete's durability, it makes for a long-lasting investment. Most outdoor concrete furniture is sealed well, so you won't have to worry about weather damage or food and drink spills. And comfort is as easy as a cushion.
---
8.

Container Gardens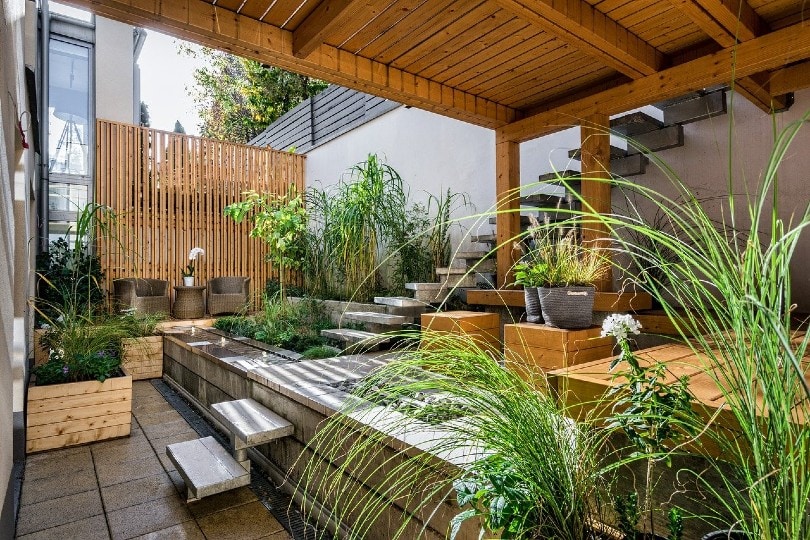 Not everyone has the space or the commitment for a full-size garden. That's probably why container gardens are on the rise this year. This is literally flower pots and herb gardens on the deck for some people. For others, it would be larger raised bed containers. With a little bit of innovation, you don't have to have a massive garden in the backyard to grow fresh vegetables.
---
9.

Detached Backyard Living Space
Detached living spaces, commonly called granny pods, are trendy this year. With a name like "granny" pod, you might not expect much, but some incredible designs are coming out. Even if granny isn't coming to stay, having a space like this in the backyard could make for a memorable night out. Add some romantic lighting and a nice meal, and it's a romantic night out—dudes pay attention.
---
10.

Sustainable and Eco-Friendly
Outdoor furniture and decor made from reclaimed and recycled materials are becoming popular. And many companies are seeking more environmentally friendly ways to make things. Looking towards a sustainable future is front-of-mind for many people nowadays, so it's no surprise to see many people supporting this trend on the rise.
---
11.

Vertical Gardening
Sometimes it's not a matter of dedication or desire to have a big garden. Sometimes, it's simply a matter of not having enough space. This is where vertical gardening is growing in popularity. There are many ways to do this, but basically, you can garden as long as you have the vertical space. A great way to support a small business would be to commission a local woodworker or metalworker to build you a custom rack to put your desired growing containers in.
---
12.

Inviting Color Schemes
Warm, inviting colors are rising in popularity this year. People are looking for that rustic, earthy feel to their outdoor areas. Think wooden chairs with beige or crème cushions and wooden tables to match. Another plus to wooden furniture is that it will add to the rustic feel through natural wear and tear as it ages. There are many ways to accomplish an inviting color scheme outside of furniture, such as with different décor or planters.
---
13.

Gnomish Yard Decor
An odd but fun trend is the rising popularity of gnome yard and garden ornaments this year. There are almost endless different options to choose from, whether you're buying online or at your local home and garden center. If you want to get creative, you can even create a scene spanning your garden and yard using gnomish ornaments
---
14.

Rattan Outdoor Furniture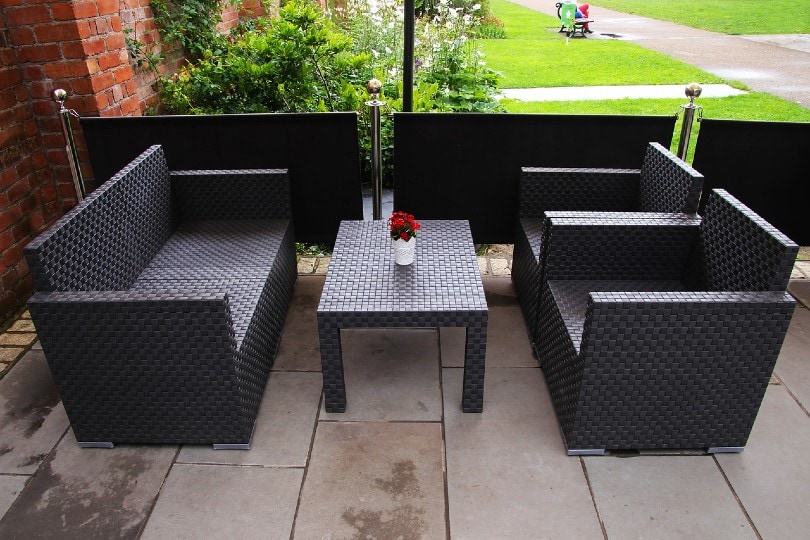 Many people think rattan and wicker are the same thing, but they are not. Rattan is a material found in tropical rainforests, whereas wicker is a style of weaving that can be done with rattan. This is why it's often confused. A major reason rattan furniture is so popular is that it is so lightweight and versatile. Many different designs and styles are weaved from rattan, and if you get synthetic rattan, it is waterproof. This can benefit you if you live in a rainy climate; there's no need to move furniture in and out according to the rain.
---
15.

Egg Chairs for Chilling
An odd trend this year is egg chairs. Maybe it's because we are spending so much more time at home, and people are getting creative with ways to be comfortable. If we're being honest, coming home after a long day and curling up with a good book in an egg chair sounds like a pretty relaxing way to spend an evening.
---
16.

Boho Isn't Just for the Livingroom
Another color style trend this year is a bohemian style. This has been popular in living rooms for many years but is now gaining popularity in outdoor livings spaces. The most remarkable thing about a boho style is that no two spaces ever look the same and often don't even look similar. Boho is a highly eclectic style with a warm color palette and unique textures and designs.
---
17.

Backyard Heat
Not everyone who is spending time in their backyards lives in a climate that is wonderful all the time. There are many different options, whether you use gas standing heaters on your deck or a small gas fire pit to sit around with friends. As backyard heating options grow more diverse, their popularity also rises.
---
18.

Privacy Screens
There are many reasons that someone would want more privacy in their backyard. Whatever the case is, privacy screens aren't only literal screens on a chain-link fence anymore. Growing hedges is one option for creating a natural privacy screen, albeit a high-maintenance one. There are also nifty screens that can be installed around the area where privacy is desired. Usually, these can roll up and down, and some of the high-end ones have electric motors to do all the work.
---
19.

Outdoor Office Space
You probably could have guessed that this would be a major trend this year. More and more people have begun working from home, and nothing quite increases productivity like getting fresh air. Depending on your climate, this space could take on many forms. If the environment allows, the space could consist of a simple desk, a cup of coffee, and your laptop, surrounded by a flower-filled lattice.
Create a Multi-Season Space
When creating unique and amazing outdoor living spaces, a major consideration is the cost. Some of this year's trends are relatively inexpensive, like an egg chair or starting a container garden. However, some can get pricey, such as a deck and hot tub or pouring a half-court and installing a basketball net in the backyard.
Whatever your redesign plans are, make sure you consider the cost involved vs. the amount of use the space will get due to weather. If possible, design a versatile space that can be used and enjoyed regardless of the weather.

Conclusion
The trick with these trends is not to do them simply because they are trends. Each home is unique in the space that it has. Whether you have a sprawling backyard or a small patio outside an apartment, the trick is getting inspired by these trends to make that space your own. In doing this, you create for yourself an oasis where you can rest and recharge for whatever tomorrow brings.
See Also: 11 Clever and Creative DIY Outdoor Play Areas (With Pictures)
---
Featured Image Credit: glynn424, Pixabay